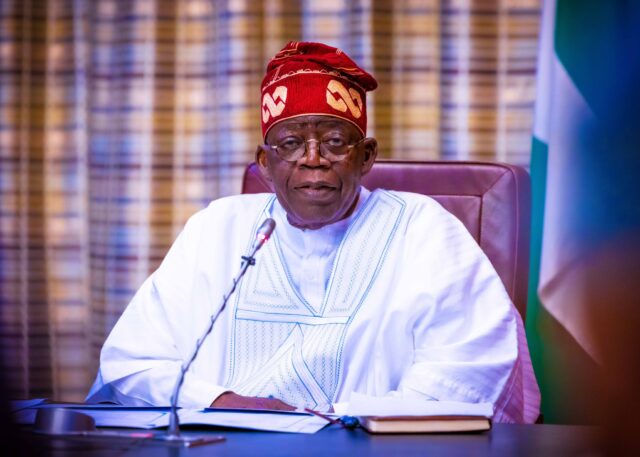 The All Progressives Congress has debunked speculation that President Bola Tinubu's private visit to the United Kingdom from the Paris summit on Saturday was to attend to his ailing health.
The development comes in the wake of the president's return to the country on Tuesday ahead of the Eid-el-Kabir festival.
Tinubu, who was initially scheduled to return to Abuja, proceeded to London for a short private visit, according to a statement signed by his Special Adviser on Special Duties, Communication and Strategy, Dele Alake.
Aside from his participation at the event, the President held high-profile sideline meetings with fellow heads of state and government, global business leaders, and chief executives of leading multilateral and development finance institutions from around the world.
His last-minute private visit, however, set tongues wagging all over social media, with trolls and critics insinuating that the former Lagos governor probably used the trip as a smokescreen to visit his doctors.
Reacting in an exclusive phone chat with our correspondent, Director of Publicity for the APC, Bala Ibrahim, refuted the claim.
While stating that such unfounded fear was uncalled for, Ibrahim disclosed that Tinubu has proven throughout his rigorous electioneering campaign and post-inauguration activities that he was fully prepared for the task.
"Why is it that every time the president travels, people will speculate that he went for treatment? Yet, not once did any of these speculations come to pass. Everything they speculated against the president didn't materialise. For God's sake, why can't they jettison this mentality of 'the man is sick?' When you investigate, you will discover those making these silly statements are not doctors. Some are even mechanics. Who is healthy? They should even look at what nature is doing. About three of the speculators have died while the man is moving.
"People should, therefore, stop challenging God. Nobody is 100 per cent healthy and the man himself has said he is contesting to be president, not the kick-boxer of Nigeria. He is doing his job as the Constitution requires. We all saw how he stood on the podium for hours during his inauguration. He took the salute, oath of office and allegiance, and even inspected the guard of honour. I think we should cut the man some slack," he said.
A former coordinator in the dissolved All Progressives Congress Campaign Council, Dr Ene Ogbole, also expressed the same concern in a separate interview.
While dismissing the speculated ill-health of the president, Ogbole reiterated she wasn't surprised Tinubu was the target of his critics and rumour-mongers.
"That rumour is not new. In fact, if we were to go by speculations and fabrications, I don't think the President should be alive today. Because there were countless insinuations, rumours and lies here and there. He went strictly on official duty, which was expected of him. It is his constitutional responsibility to liaise with other countries of the world. After all, the world is a global village. Things are interwoven. People relate for economic, political, climate and several other reasons. So he has gone for his assignment as we have seen so far and he will be back.
"By the way, any man can fall ill. As I speak to you, I have arthritis in my legs. I can't walk well. I'm 40 years plus, not to talk about a man like that. Younger people are falling ill, developing arthritis, dislocation or fracture. In fact, anything can happen. We are humans and not machines. Even machines develop faults. So what is wrong with him going to the hospital? But that is not the case. He has only gone for a meeting and will come back to move Nigeria forward in a positive direction," she stated.
Her defence came at a time many of the president's campaign foot soldiers and former spokespersons are evading media attention to avoid blowing their chances of making it into his cabinet, ministerial list, boards of ministries, departments and agencies.
But the former campaign director added that since assuming office, Tinubu has left no one in doubt about his sincerity on the need to right the wrongs of the past.