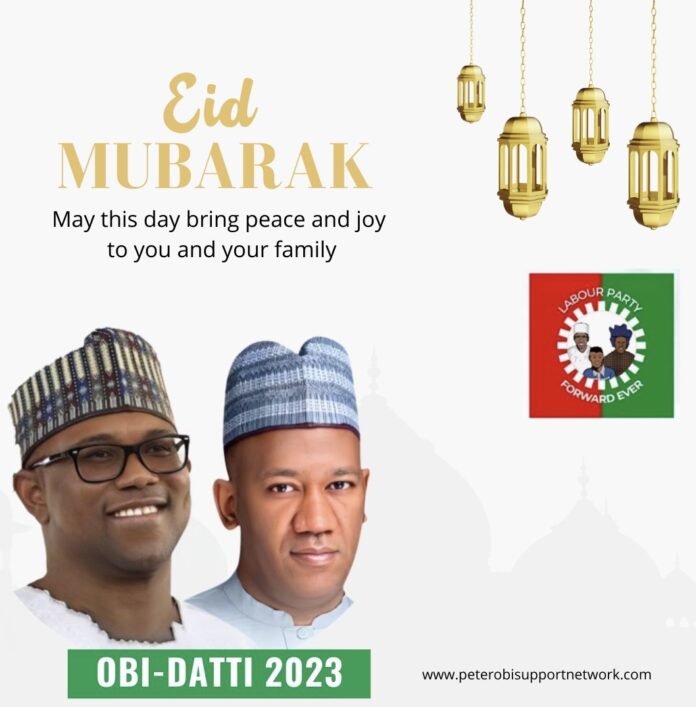 Peter Obi Support Network, through it spokesperson, Sani Saeed Altukry, Felicitates with the Muslim faithful on the occasion of this year's Eid El Kabir Sallah celebrations.
The group said this year's celebration came at a time when the country is facing a Leadership pandemic that was never experienced in the history of our nation. The situation which deprives many Nigerians of Socioeconomic and Political Rights, Liberties and Priviledges had succeeded in languishing Nigerians into high level Poverty, insecurity, Economic deterioration and depleted Standard of leaving which calls for sober reflection and fervent prayers.
The statement, therefore, urged Muslim faithful to be steadfast and use the opportunity of this festival to offer prayers for a solution to our present situation, while wishing all a happy and hitch-free celebration.
"We, therefore, call on both the leaders and the followers of Islam to continue to embrace the virtues of love, peace, unity, kindness and sacrifice, as exemplified by the Holy Prophet Muhammad (SAW), during and after the Eid-el-Kabir celebrations. They should also use the occasion to pray for Nigeria to come out of these insecurity challenges better and greater.
Peter Obi Ya Taya Al'ummar Musulamai Murnar Bikin Babban Sallah
Tsohon Gwamnan Jihar Anambra kuma Dan Takarar Shugabacin Kasa a Jam'iyyar Labour, Peter Obi ya taya Musulmin Nijeriya da na duniya murnar bikin Babban Sallah.
Peter Obi ya kuma taya Musulmi juyayin yin bikin Sallar cikin wani yanayi da ba su saba gani ba, sabanin yadda su ka saba yin Sallar cikin farin ciki da walwala, sabili da kuncin Rayuwa, Rashin Tsaro, Walwala da hauhawan Farashin Kayayyakin Masarufi.
Bayanin hakan na kunshe ne a cikin wani sako da Kungiyar Magoya bayan sa Mai Suna a Turance, "Peter Obi Support Network* ta fitar, inda wannan Kungiya ta kara da cewa gurbacewar Shugabanci a Nigeria wata jarrabawa ce daga Allah, wadda nan ba dadewa ba zai Zama Tarihi.
Kungiyar Magoya bayan Peter Obi, sun kuma yi kira ga shugabanni su nuna sadaukarwa a wannan lokaci, kuma su jingine rayuwar Almubazzaranci da jin dadi domin nuna tausayawa ga al'umma.
Haka kuma, sun bukaci shugabanni a fadin duniya su kasance masu koyi da kyawawan halaye irin na Annabi Muhammad S.A.W, da sauran halifofin sa da su ka nuna sadaukarwa yayin da su ke rike da shugabanci.
A karshe wannan Kungiya ta Peter Obi Support Network, sun yi kira ga 'yan Nijeriya da su fita suyi katin zabe, sannan su tabbatar sun roki Allah ya zabar wa Nigeria Adalan Shuwagabanni a Zaben 2023.