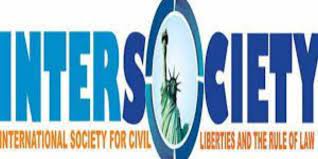 Intersociety-Nigeria
Sat, 25th Feb 2023
Time: 2 pm (reposted)
· INEC's National Commissioner for Information and Voter Education (Festus Okoye Esquire)
Communication Mode: WhatsApp: +2348033038001
Email: festokoye2003@yahoo.com
· Resident Electoral Commissioner for Anambra State (Dr Mrs. Elizabeth Agwu)
Communication Mode: Mobile Line/WhatsApp: +2348035757191
Dear Commissioners Okoye and Agwu,
An Open Letter
Urgent Demand For Five Hours Extension Of Voting Deadline In Anambra, Delta, Imo, Ebonyi, Enugu And Abia
The International Society for Civil Liberties and Rule of Law (Intersociety) is writing you: Mr. Festus Okoye Esquire (INEC National Commissioner for Voter Education/National Commissioner in charge of Anambra, Enugu and Ebonyi) and Dr Elizabeth Agwu (Resident Electoral Commissioner for Anambra) on the subject matter underlined above.
Intersociety had as a result of receipt of intelligence of extreme urgent importance in late evening of yesterday, 24th Feb 2023, raised alarm, titled: Presidential And National Assembly Polls May Most Likely Be Delayed In Anambra Or Not Held At All In Many Areas Of The State
The intelligence report leading to the raised alarm is contained the following facts:
1. That the Presidential and National Assembly Polls scheduled for today (25th Feb 2023) may most likely be delayed for many hours behind the scheduled time tomorrow or not held at all in many areas of the State.
2. That the above followed the controversies surrounding the eleventh hour posting of the relevant INEC senior staffers to areas of their assignment including the State's 21 LGAs.
3. That those mostly affected include the SPOs or Special Supervising Officers and their subordinate POs and APOs.
4. That following late or eleventh hour posting of the SPOs (2: pm today), most of them are unlikely to reach their LGAs' destinations before the midnight of 12:am today being 24th Feb 2023.
5. That as such, some, if not many of them will not reach their posting areas until tomorrow morning which makes it difficult for sensitive materials in possession of the EOs to be handed over to them for sorting and final re-arrangement before being deployed and used for the polls.
6. That the above is expected to cause several, if not many hours of delay in the commencement of the polls and possibly non holding of the polls in some, if not many parts of the State (Anambra).
7. That these are also most likely to aid the suspected planned massive failure of the functionality of the INEC accreditation and voting machines such as BVAS and IReV, etc
8. That this is more so when Anambra INEC has been embroiled in a litany of scandals involving posting and counter-posting of EOs and ICT heads between the REC (Dr Mrs Agwu) and INEC National Commissioner for Anambra, Enugu and Ebonyi (Festus Okoye Esquire) as contained in the latest report by Sahara Reporters.
9. That there are also serious allegations of heavy monetary inducements and compromises on the part of EOs and ICT heads at the State headquarters of INEC and its 21 LGAs' offices.
10. That the Anambra INEC is also in the eyes of the storm regarding the recent discovery of thousands of PVCs belonging to innocent registered voters in Nnewi North dumped at the bank of a local river and discovered and taken to the Authority FM Radio by a Samaritan hunter.
It is not only that the 10-point alarm came to pass since 8:30am of today being the official time for the commencement of accreditation/voting across the country but also arrival of voting materials and electoral officers were delayed in most parts of Anambra State for over four hours.
As if that was not enough as at 12: 30pm, they are yet to arrive in various polling units across the State especially in the State's River-line LGAs of Ogbaru, Anambra West, Anambra East, Oyi, Awka South, Awka North, Ayamelum and others including Ihiala, Nnewi South, Orumba North, Orumba South and Idemmili North and Idemmili South. The Ukaegbu, St James Anglican Church, St Vincent (opposite Anambra Broadcasting Service) areas of Awada in Idemmili North and many areas of Nkutaku (in Okpoko, Ogbaru) were yet to receive voting materials and INEC officials as at 2: pm. There are also several complaints of INEC officials arriving late without result sheets; with Otumoye electoral area of Ogbaru as a clear case in point.
Our findings further indicate that similar situations have been the case in several parts of Delta, Imo, Enugu, Ebonyi and Abia; whereas in States like Kano, Adamawa and so on, accreditation/voting started as early as 8:30am with Alhaji Atiku Abubakar as one of the earliest voters. In many parts of Ideato North and Ideato South, Okigwe and several, if not most parts of Imo State, INEC officials were nowhere to be seen with voting materials; likewise different parts of Aguata including Uga, Ekwulobia, etc. All these are happening with less than one-and-a-half to the end of the voting or before 2:30pm.
Demands:
For purpose of equity and just and disabusing the minds of tens of millions of Nigerians who already held that the delays were deliberately orchestrated to shut out millions of enthusiastic voters from freely voting candidates of their choice especially in South-East and South-South, Intersociety strongly demands for four hours extension of voting deadline in the affected States, or from 2:30pm to 6:30pm. Commissioner Festus Okoye is called upon to use his position as National Commissioner for Voter Education and National Commissioner for Anambra, Enugu and Ebonyi to ensure total and timely heeding to this clarion call/demand. All the INEC lapses pointed out must be holistically addressed and nipped in the bud, failure of which can have far reaching consequences.
We also call on security agencies to beef up security around the polling centers and ward collation centers and adjoining routes and boundaries. We call on public spirited individuals and entities to donate sets of generators and premium motor spirit or fuel to enable the electoral officers have a hitch free conduct of the poll and safe transportation of the credible results generated irrespective of which political parties the results might belong to.
For: International Society for Civil Liberties and Rule of Law (Intersociety)
/s E. Umeagbalasi
Emeka Umeagbalasi, B.Sc., M.Sc.
Criminologist/Researcher
Board Chair @ Intersociety
/s C. Umeche
Chinwe Umeche Esquire, LL.B, BL
Head, Democracy and Good Governance Program @Intersociety
/s C.Udegbunam
Chidinma Udegbunam Esquire, LL.B, BL
Head, Campaign and Publicity Department @ Intersociety
Contacts:
Phone/WhatsApp: +2348174090052
Email: info@intersociety-ng.org
Website: https://intersociety-ng.org