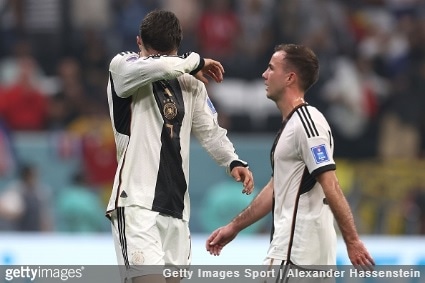 The group stage of the World Cup in Qatar is well over now, and while those whose journey towards the throne of the world continues prepare for the ever-increasing difficulties ahead, those who didn't make it into the second phase have perhaps had time to reflect on the things which went wrong for them, Njenje Media News reports.
There is no doubt that a lot of them – the players, staff, supporters and the wider public in the countries in question – will have been sorely disappointed by their lack of success on this great stage.
Germany
Drawn with Spain, Japan and Costa Rica in Group E, Germany were surely expected to get through at least from the second place, but they got off to a very poor start by losing 1-2 to Japan and it seems they simply weren't able to cancel out the negative effect that had on their chances of progressing.
The worst of it is probably the fact that they were 1-0 up after just over half and hour, when Manchester City midfielder Ilkay Gundogan converted from the spot to put his country ahead. Japan drew level through Ritsu Doan with 15 minutes remaining, and Takuma Asano turned the contest on its head eight minutes later.
They held out in the second round against Spain as Niclas Fullkrug cancelled out Alvaro Morata's opener, and eventually came back from behind to beat Costa Rica 4-2, with Serge Gnabry, Kai Havertz (twice) and Fullkrug again, all on target. But it wasn't enough as Japan rose to fresh heights in that final round to beat Spain for the top spot, pushing the Germans down to third.
A lot of criticism was flung towards Germany after that last match, with former Arsenal boss Arsene Wenger, among others, stating that the Panzers should have concentrated solely on football going into the tournament, rather than think about sending messages about human rights.
Be that as it may, the fact is that Germany haven't been able to get out of a World Cup group since they were last crowned champions, back in 2014 in Brazil. In Russia, four years after that historic success, they finished last, behind Sweden, Mexico and South Korea. Their supporters obviously hoped Qatar would be a good opportunity to set the record straight, but it simply wasn't to be.
On the pitch, a lot of things went wrong for Hansi Flick's men. All the time they appeared to be missing a classic striker as Thomas Muller repeatedly started as the man furthest upfront, a role he has started playing only recently at club level, following Robert Lewandowski's departure from Bayern Munich to Barcelona. The same goes for Chelsea star Kai Havertz – both play a lot better with a designated striker ahead, but Flick chose not to trust too much to the only such player in his ranks. Instead, Fullkrug made cameos off the bench in all three games, scoring important in goals the last two and giving off a strong feeling that perhaps he should've played more.
Looking ahead, there's much to decide, not least if Flick should remain in the dugout. Manuel Neuer is 36, Ilkay Gundogan 32, Muller is 33. It remains to be seen if any one of them is involved in the campaigns that follow. For the time being, only Neuer has spoken, claiming he would answer the summons if it came.
But the most hopeful aspect of it all for Germany is that they still have plenty of young talent in their ranks, on top of some of their players just entering their prime. Jamal Musiala, the attacking midfielder who really impressed on the world's biggest stage, is only 19. Havertz, already a Champions League winner with Chelsea, is still only 23. The pair of Borussia Dortmund attackers, Karim Adeyemi and Youssufa Moukoko, are 20 and 18, respectively.
The future could be bright for the four-time world champions.
Belgium
It really is amazing that the time of this generation of Belgian players, brimming with all kinds of brilliance throughout the squad, hasn't even come close to winning a major international tournament, nor is it likely to do so.
The group they played in, consisting of Croatia, Morocco and Canada, was far from an easy one, but you'd expect a team like that to win it regardless, and without too many difficulties. Coach Roberto Martinez had superb players in each position, some of them considered arguably the best or among the best on the planet.
Asked about the prospect of his team winning this World Cup in an interview with the Guardian, Manchester City star Kevin De Bruyne spoke with surprising pessimism.
"No chance," he said. "We're too old.
"I think our chance was 2018. We have a good team, but it is ageing. We lost some key players. We have some good new players coming, but they are not at the level other players were in 2018. I see us more as outsiders."
These words might have been said in order to relieve some of the pressure the players probably felt as they prepared for the tournament, having previously failed to confirm at international level the success they've achieved with different clubs. But in the end, it seems there was more truth in them than even De Bruyne himself thought.
Thibaut Courtios, Simon Mignolet, Toby Alderweireld, Jan Vertonghen, Thomas Meunier, Timothy Castagne, Axel Witsel, Leander Dendocker, Youri Tielemans, De Bruyne, Eden and Thorgan Hazard, Yannick Carrasco, Leandro Trossard, Romelu Lukaku, Jeremy Doku, Michy Batshuayi,… Everywhere you look, you see top quality. And yet, it's these players that having barely beaten Canada, got deservedly beaten by Morocco and couldn't find the back of the net from 16 attempts against Croatia.
It was likely the last chance on the world stage for Vertonghen (35), Alderweireld (33) and Eden Hazard (turns 32 next month). By the next World Cup, De Bruyne, Lukaku, Meunier, Carrasco, they will also fall into the category called "past their prime", even if they are selected to play.
The Qatar adventure is likely to prove a sad end to what could've been a glorious story of a golden generation.
Denmark
Highly motivated by the near-tragic event that struck during their opening match of the Euros last year, when Christian Eriksen barely survived a cardiac arrest in the first half of the match against Finland, Denmark rallied beautifully and managed to go further than many expected them to. They were stopped eventually by England in the semifinals, and they were considered one of the most pleasant surprises of the tournament.
Very unlike what happened in Qatar.
Eriksen returned to the squad and was expected to lead Kasper Hjulmand's team after a fine start to life at Manchester United. There was a feeling of luck missing in their goalless draw against Tunisia in the first round as Hjulmand openly expressed dissatisfaction with the way his players performed. The biggest problem was that their next opponent were defending champions France, and once they lost that, they entered the clash with Australia in a must-win situation. And they lost.
Maybe not quite at the same level as Belgium, but there were some very notable names in the Danish squad apart from Eriksen. Not least Kasper Schmeichel, Simon Kjaer, Andreas Christensen or Pierre-Emile Hojbjerg, but also Martin Braithwaite, Yussuf Poulsen, Kasper Dolberg, Joachim Andersen, Mikkel Damsgaard and others.
Denmark were never really up for winning the World Cup, but they should have at least got out of their group.
Uruguay
There's so much history and passion when it comes to football in Uruguay and the players from the South American country scattered across top European leagues, that it came as no big surprise when Luis Suarez, Darwin Nunez and others shed tears following the confirmation of their elimination from the World Cup, despite their 2-0 victory over Ghana that day. Before that, they had drawn 0-0 against South Korea and lost 0-2 to Portugal, and the four points simply weren't enough to get them through.
Like the teams mentioned earlier, Uruguay have a number of top quality players. Aside from Suarez and Nunez, they have a certain Fede Valverde who played a huge part as Real Madrid beat Liverpool for the Champions League trophy earlier this year. Edinson Cavani, Rodrigo Bentacur, Jose Gimenez, Diego Godin, Matias Vecino, Lucas Torreira, these are all players in a team that certainly should have done better in Qatar.
Now it's too late, too late for Suarez (35), Cavani (35) and Godin (36), that much is certain, as well as Fernando Muslera (36) who sat on the bench to leave his spot between the posts to Sergio Rochet. Nunez and Valverde now must take on the burden and lead their national side in tournaments to come.
Serbia
Under the command of former Yugoslavia captain Dragan Stojkovic, Serbia booked a place in Qatar in a most impressive way, beating Portugal in Lisbon in the final match of the qualifying campaign to finish top of their group. It got the wider public, including that in the country itself, to pay more attention.
After all, Lazio reportedly value Sergej Milinkovic-Savic at over €100 million, Juventus paid big money to sign Dusan Vlahovic last winter and added Filip Kostic to their ranks in the summer, Aleksandar Mitrovic has been terrorizing Premier League defences in the last couple of months, and the names of defenders Nikola Milenkovic, Stefan Mitrovic, Milos Veljkovic and Strahinja Pavlovic are known in the European football circles too.
There were some who believed Serbia could go on to do very well at this World Cup. That, of course, meant first getting out of the group containing Brazil, Switzerland and Cameroon.
Nobody really expected Stojkovic's men to get anything from their opening clash with Brazil, but the way things unfolded in the second half of that match was a sign of worse things to come.
Speaking to the press afterwards, Stojkovic said he couldn't understand why his players gradually stopped running as the second 45 minutes progressed. Playing against the main favourites to win the tournament, they were bound to be punished and they ended up lucky to have lost just 0-2. Against Cameroon, they did very well to go 3-1 up after conceding first, but just as it seemed they would finally do the job properly, two inexplicable defensive mistakes dragged them back level and in the end, they had to hold on for a point.
The last game, the one they had to win and the one that held special significance after the unpleasant events that took place against Switzerland in Russia four years ago, was probably the biggest fiasco of the lot. It got off to the worst start possible as Xherdan Shaqiri broke the deadlock and put his finger to his lips to silence the Serbian crowd. Stojkovic's men bounced back again and after Mitrovic equalized, Vlahovic put them ahead and it was his turn to place a finger on his lips. But goals from Breel Embolo and Remo Freuler turned the contest around again, and then the expected provocation from Granit Xhaka came.
Serbian players really should have prepared better for that moment, knowing that Shaqiri and Xhaka would be up to their old politically provoking tricks again, but they obviously weren't. Their blood boiled, and by the end, they simply weren't able to focus on the task at hand.
There were some injury problems in the Serbia squad, but there can be no excuse for the fact that they played about 60 minutes of each game and completely fell apart after that period. Despite some bright moments from this team in the last two years, their were sent home from Qatar after the group stage just like their performances in the tournament deserved.