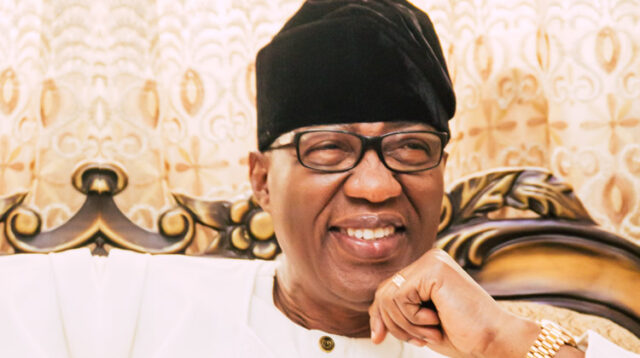 Senator Gbenga Daniel, a former governor of Ogun state and the lawmaker representing Ogun East, has written to the Ogun state governor, Dapo Abiodun requesting a suspension of his monthly retirement benefit.
The lawmaker in a letter acknowledged and stamped by the office of the Governor of  Ogun State noted that he could not continue to collect such emolument with free conscience.
Senator Daniel also clarified that since he left office, he had not got any other form of welfare in terms of medical, furniture, or other allowances.
The letter read, "I write to request the suspension of my monthly pension/allowances of N676,376.95 ( gross) ( Six hundred and Seventy-Six Thousand, Three hundred Seventy-Six Naira, Ninety-Five kobo)  being paid as a former governor of Ogun State.
"This request is in line with my conscience, moral principle, and ethical code against double emoluments that as a serving Senator of the Federal Republic of Nigeria who hitherto was a former State Governor, shall not be entitled to the payment of pension and allowances from such state."
The Ogun lawmaker in the letter added, "It would be recalled that on Tuesday 13th June 2023, I was with other elected Senators and Members of the House of Representatives inaugurated as members of the 10th National Assembly.
"It is pertinent to also have it on record that since I left the office in 2011, I have not benefitted from any welfare packages be it Medical, Furniture, transportation, etc."