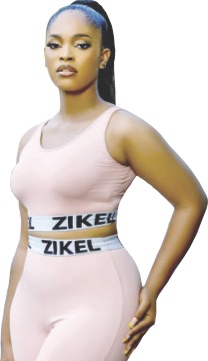 It was a parade of young, beautiful and intelligent ladies recently at Terra Kulture, Victoria Island, Lagos, as indigenous make- up brand, Zikel Cosmetics held the grand finale of Face of Zikel beauty pageant.
In a keen competition that brought the best out of the 35 contestants, Gold Ezennaya emerged winner and was crowned the Face of Zikel Cosmetics.
In this interview, she narrated her success story. Please enjoy it.
Can you briefly introduce yourself?
My name is Gold Ezennaya. I am 20 years old and from Anambra State. I am currently studying Soil Science and Land Resources Management at Nnamdi Azikiwe University, Awka. I'm from a family of three beautiful girls and I am the first child. I love makeup so much that I'd buy makeup instead of clothes. Also, I love watching crime and serial killer documentaries, as well as lifestyle Vlogs. I'm really passionate about makeup and family.
How did you know about the Face of Zikel beauty pageant?
I got to know about the Face of Zikel beauty pageant through the CEO of Zikel Cosmetics. I went to buy makeup as retail therapy and as I was shopping, the CEO saw me through the CCTV and asked a lady to bring me to his office. At first, I was reluctant but I later decided to go see him. When I got to his office, he asked me if I have heard about the pageant, and I said no. He then proceeded to tell me about it and encouraged me to register. Three days after the encounter, I registered and here we are today.
How many of you contested and what gave you the edge to emerge winner?
We were 35 contestants and what gave me the edge was God's grace and hard work. I'll keep saying this because this was something I really wanted, and I was very intentional and passionate about it also.
What prizes did you win in the contest?
I won cash prize, trip to Dubai and a year's supply of Zikel cosmetics as well as ambassadorial deals.
What are the challenges you encountered at the booth camp?
Waking up early was one of the challenges I encountered because I am not an early morning person. But I had to adjust and adapt to waking up early.
Would you still have time for your old friends as the Face of Zikel?
Honestly, I have very few friends; and yes, I would still be friend to my old friends, because they were the most supportive throughout this journey. Other challenges I had included doing my school work, getting people to vote for me, and making sure I was okay every single day in camp. I want to use this opportunity to specifically thank Zuriel, Nene and Treasure.
What's the reaction of your boyfriend to your emerging Face of Zikel?
He was really excited and happy for me. He's one of my biggest supporters, and he was there with me at the grand finale.
Did you have the support of your parents to enroll for the pageant?
Initially, I didn't have the support of my dad because he was concerned about my education; something most parents would also be concerned about. But after a while, he was supportive and started calling me everyday. My parents voted and made sure they got people to vote for me. They also prayed for me every single day. This is something I will never take for granted.
As a queen, how do you handle advances from men?
It's the same way I have always handled it.
What's your advice for girls who may want to enroll for the next Face of Zikel, or any other beauty pageant?
If you really want to contest in a beauty pageant, you should go for it. Don't be discouraged by naysayers, and ensure you have a budget for dresses, shoes, accessories etc. Finally, talk to God about it and surround yourself with positive-minded friends and family members.
The post My lover, my biggest fan –Gold Ezennaya, beauty queen appeared first on The Sun Nigeria.