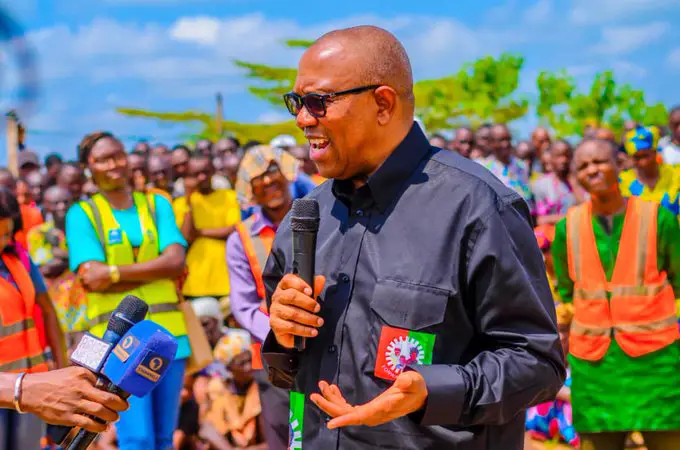 Supporters of the Presidential candidate of the Labour Party (LP), Mr. Peter Obi, and his running mate, Senator Datti Baba-Ahmed, under the Prof. Pat Utomi-led Big Tent Independent Obi-Datti campaign Organization on Saturday engaged in sweeping parts of the Federal Capital Territory (FCT) as part of strategies to woo electorates ahead of the February 25 presidential election.
The exercise in collaboration with the Labour Party, see members of the group symbolically clean up designated areas within Abuja metropolis beginning with a clean up of the Nyanya taxi and bus park situated at the popular Berger Round About, before moving to other parts of the territory.
Secretary General of the Big Tent, Dr. Austin Kemie, speaking with reporters, said the event, like several others being held across the nation, was designed to educate Nigerians about the choices before them come February 25th.
"We are here to announce to the nation, we are here to announce to everyone, men and women, brothers and sisters that the time has come for us to own our nation, the time has come for us to retrieve Nigeria, to reposes Nigeria," Kemie said.
When asked how different is the LP candidate from other contenders, he replied, "I want to give this illustration, please put our candidate and his opponents on a scale of preference, look at the antecedents of these candidates, my candidate Peter Obi and look at the candidates of other candidates from other political parties.
"Look at their antecedents. If these candidates are banks for example, you that is asking me this question where are you going to bank your money? So, we are talking about antecedents of integrity in our own candidate, you can see what is going on with other candidates between the controversies surrounding these candidates of our rival parties."You can see all the confusion accusations and counter accusations. Did you see any of these controversies surrounding our candidate?
"There is nothing like that they will tell you that Nigerians are tired of corruption. We want to clean up corruption from this country, we are going to clean up nepotism from this country and we want a man who has a clean record to superintend over the affairs of Nigeria going forward."
Another member of the Big Tent, Mr. Patrick Ogim, said the Big Tent has members and branches all over Nigeria and that they were all working towards the goal of ensuring that the Obi-Datti Labour Party Presidential ticket wins the February 25 election.
He said, "It will interest you to know that what we are cleaning out from Nigeria is drug abuse and drug related offenses the miscreants that attacked the convoy of his Excellency in Katsina are miscreants that are on drugs."