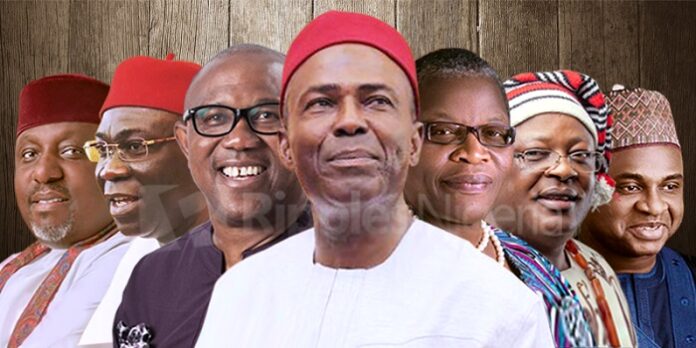 …make a strong case for Presidency of the Southeast extraction and fair sharing of 18 top federal public offices
…Gov Nyesom Wike is geopolitically disqualified and unfits for 2023 presidency because of his terrible human rights records
…advise former President Jonathan to shelve his presidential ambition and go home and rest with honor
Enugu Nigeria, 5th May 2022:The Leaders of the Southeast Based Coalition of Democracy and Human Rights Organizations (SBCHROs); a coalition of over twenty human rights and pro democracy organizations based in Southeast Nigeria have extensively deliberated and adopted as a working advocacy document 'the Intersociety's Roadmap/Guidelines for Equity and Peaceful Transition of Top Federal Seats of Power in 2023 in Nigeria'. The Southeast CSO Leaders involved include Comrade Aloysius Attah, Chair of Southeast CLO, Comrade Vincent Ezekwueme, Chair of Anambra State Branch of the Civil Liberties Organization, Barristers Chidimma Udegbunam, Chinwe Umeche, Obianuju Joy Igboeli and NK Nduka of Intersociety; Comrade Anayo Okoli and Emeka Umeagbalasi of Intersociety; Nath Aguh, PhD, Engineer IK Nwandu and Architect Eric Eyituche of ADF, Enugu; Comrade Chilos Godsent and Zulu Ofoelue of the Igbo National Council, Enugu/Owerri; Okezie Kelechi, PhD of NEW-Foundation, Ebonyi State; Jerry Chidozie Chukwuokolo, PhD of ISPHRI/ADF, Enugu; Anthony Onah (Atama Iyieme), Izundu Chigbo (Atama Ajali), Comrade Nnanna Nelson Nwafor of FENRAD, Abia State, Comrade Alozie Nwokocha of IDEAL-Nigeria, Abia State, Comrade Peter Onyegiri of CHRPA, Anambra State, Barr Mrs. Violet Ezekweike, an Awka-Anambra State based activist legal practitioner, Comrade Alex Olisa of MDGGA, Anambra State; among others.
The Coalition wishes to recall that Intersociety had in its three-page research findings released and dated 25thFebruary 2022 called for equitable and peaceful transition and distribution of top federal public offices in Nigeria in 2023. Out of the over 1200-1500 public offices demanded to be balanced along the country's multi ethno-religious and geopolitical linings or groupings including 1,083 top federal public offices cited in the Certain Political, Public and Judicial Office Holders (Salaries and Allowances, Etc.) (Amendment) Act of 2008'; Intersociety also cited several constitutional provisions to back its research work. They include Sections 14 (3) and 15 (4) of the 1999 Constitution ('geopolitical balancing' and 'a sense of belonging' in the composition and sharing of top federal elective and appointive offices in Nigeria'). Others are Sections 17 ('Freedom, Equality and Justice'), 42 ('Freedom from Discrimination, Political Exclusion and Segregation'), 217 (3) ('the composition of the officer corps and other ranks of the Armed Forces of the Federation shall reflect the Federal Character (geopolitical balancing) of Nigeria') and 10 ('the Government of the Federation or a State shall not adopt any religion as State Religion').
According to Intersociety, similar provisions are contained in several Rights and Humanitarian Treaty Laws(int'l conventions and charters) acceded to by Nigeria and they include the UN Covenants on Civil and Political Rights and Economic, Social and Cultural Rights, enacted in 1976 and ratified by Nigeria in 1993. Another very important int'l instrument supporting political inclusion and rights to ethnic identity, development and political participation including right to vote or to be voted for is the African Charter on Human and Peoples' Rights, enacted in Nairobi, Kenya in 1981 and signed, ratified and domesticated by Nigeria in June 1983. Section 14 (4) of the 1999 Constitution as amended also directs for fair or equitable sharing of top State political offices among the three senatorial districts or zones in each of the country's 36 States bearing in mind its ethnic and religious composition and their population size.
Intersociety had recommended that the sharing of the country's six top federal political positions should be as follows: 'Presidency of Nigeria-Southeast (Christian/Non Muslim), Vice Presidency-Northeast (Muslim), Senate Presidency-North-Central (Christian/non Muslim), Federal House Speakership-Southwest (Muslim or Christian), Deputy Senate Presidency-South-South (Christian/non Muslim) and Deputy Federal House Speakership-Northwest (Muslim). Intersociety also recommended for the sharing of the country's six top federal judicial offices as follows: 'Attorney General of the Federation-Northeast (Muslim), President of the Court of Appeal-North-Central (Muslim), Chief Judge of the Federal High Court-Southwest (Christiand/non Muslim), Solicitor General of the Federation-South-South (Christian/non Muslim), Chief Judge of the FCT High Court-Northwest (Muslim) and Chief Justice of Nigeria-Southeast (Christian/non Muslim). The sharing of the country's six top Security/Service Chiefs was recommended by Intersociety as follows:Chief of Armby Staff-North-Central (Christian/non Muslim), Director General of State Security Service-Southwest (Muslim), Chief of Naval Chief-South-South (Christian/non Muslim), Inspector General of Police-Southeast (Christian/non Muslim) and Chief of Air Staff-Northwest (Muslim).
It was also the finding of Intersociety that the Northwest Region had occupied the country's elective/executive presidency from 1979-1983, 2007-2010 and 2015-2023; a total period of fifteen years; followed by the Northeast 1957-1966; a total of nine years; Southwest Region 1999-2007; a total period of eight years and South-South Region 2010-2015; a total of five years and that rotationally, the Southeast Region which had never occupied democratically and executively elected presidential seat since independence in October 1960 or since the country's colonial democratic transition in 1957, is eminently the next in line. Intersociety ended its seminal research work by making strong appeals for the Geopolitical Zones of the Northeast, the North-central, the Southwest, the South-South and the Northwest to join hands in producing the next President of Nigeria from the Southeast as doing otherwise might have disastrous political, economic and cultural consequences of calamitous proportions. The group had in its research work blacklisted the military era in the country's political dispensations and labeled it an 'aberration for discussion, counting and inclusion'.
Wike Ineligible And Unfit
Governor Nyesom Wike is ineligible and unfit as a presidential aspirant in Nigeria ahead of 2023 Presidential Election. This is on account of his terrible human rights records. The ineligibility of Governor Nyesom Wike also stems from the fact that his geopolitical zone-the South-South had not long ago occupied the country's presidential seat from 2010 to 2015. It must be pointed out clearly that this Coalition is strongly canvassing for Presidency of the Southeast extraction and 'not Presidency of the Igbo Ethnic Nationality Extraction'. We are aware that there are ancestral Igbo citizens of Kogi, Benue and Nasarawa or North-Central extraction. There are also ancestral Igbo citizens of Akwa Ibom, Edo, Bayelsa, Delta, Cross River and Rivers or South-South extraction. We are in the know, too, of the Igbo People of Gusau in present Zamfara State who migrated to the area in 1600AD, 200 years before the Fulani incursion in Northern Nigeria. Therefore, with regard to the 2023 Presidential Election, our attention is on the Presidency of the Southeast Geopolitical Zone or Region. The major reason why Governor Wike is unfit for the 2023 Presidency is his egregious involvement in the perpetration and perpetuation of crimes against humanity and other internationally prohibited acts in Obigbo part of Rivers State following his proclamation of 21st October 2020. Governor Wike had openly invited untrained, murderous and other atrocious acts perpetrator soldiers of the Nigerian Army and in the 'war grade' invasion that followed and lasted for over one month, according to several reports by Intersociety, "hundreds of defenseless citizens were abducted and disappeared and no fewer than 140 defenseless others killed and seriously injured-with several properties including civilian homes worth billions of naira set ablaze or destroyed or pillaged or plundered".
Former President Jonathan Must Go Home And Rest With Honor
The return bid of former President Goodluck Jonathan for the 2023 Presidency is morally uncalled for. The best expected of him is not to rejoin the race but to fatherly join former leaders of the country to ensure the equitable and peaceful transition of the country's top federal seats of power in 2023; especially by joining in the ongoing persuasive campaigns to produce the next President of the country from the Southeast and ensuring that the emerging Southeast President does not corner all or most of the key federal public offices to his zone or region. Having taken the slot of his region or geopolitical zone (South-South: 2010-2015), former President Goodluck Jonathan is ineligible and unfit to seek to be the President of Nigeria again especially in 2023. His Geopolitical Zone or Region-South-South must morally and constitutionally wait for their turn when others in line must have taken theirs.
Era Of Surrogate Governors Must End In Southeast In 2023bb
The era of electing or imposing surrogate and enemy Governors must end in Southeast in 2023. Except the new Governor of Anambra State and to a tinniest extent, the Governor of Enugu State, 'there are technically no Governors in the Southeast Region'. Therefore, to avoid the repeat of this leadership tragedy, the voters and CSO leaders in the Southeast must congregate and aggregate to ensure that 'heavy weight', conscientious, credible and popular persons emerge in 2023 as 'new Governors' in Enugu, Ebonyi, Abia and Imo (in Sept 2023).
Signed
For: Southeast Based Coalition of Democracy and Human Rights Organizations
·Jerry Chidozie Chukwuokolo, PhD
·Okezie Kelechi, PhD
·Emeka Umeagbalasi, M.Sc.
·Aloysius Attah, M.Sc.
·Chidimma Evangeline Udegbunam Esquire, LLB, BL
General Contact:
Phone/WhatsApp: +23474090052