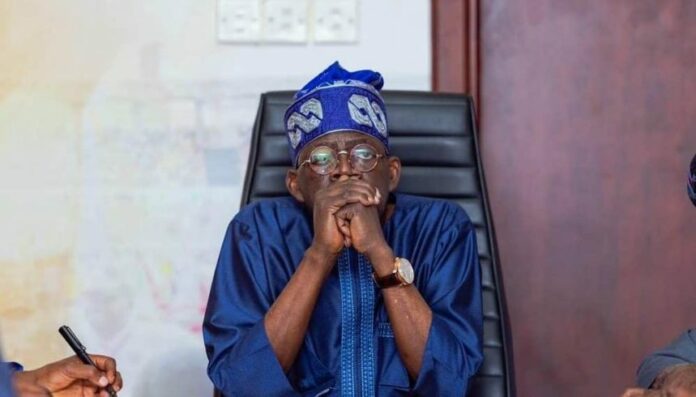 Bola Ahmed Tinubu spent staggering sums of cash to collar the presidential ticket of the All Progressives Congress (APC). The self-same Tinubu – ex-governor, ex-senator, ex-June 12 activist, life-long Asiwaju and Jagaban unto death – appears doomed to become an also-ran in next year's presidential election.
Before our very eyes and his, Tinubu's aspiration to be Nigeria's first citizen seems to be unraveling. In metaphoric terms, every sign suggests that the ship of the APC candidate's political campaign is about to ram into the rocks.
This looming catastrophe is all the man's doing. There's an undeniable touch of genius about the man Tinubu. His life has consisted of a series of self-reinventions. His real name may or may not be the one he uses. Many suspect that he's older, much older, than his declared age. He certainly did not attend classes at the prestigious University of Chicago, but graduated from a much less exalted community college in the same city. It appears he once ran afoul of the law in the United States, and had to pay a fine to avoid prison. A remarkable member of NADECO, a group that opposed General Ibrahim Babangida's annulment of the June 12, 1993 presidential election, Tinubu led the life of an exile. By many accounts, his exilic life was marked by harsh, deprived circumstances, a far cry from his aggrandized present as one of Nigeria's wealthiest persons.
There's more. Tinubu went from being a two-term governor of Lagos to being the state's lone kingmaker. After his tenure, each subsequent occupant of the gubernatorial office served at Tinubu's pleasure. Indeed, there was a time when he operated as ultimate suzerain over the vast geopolitical space of southwestern Nigeria. Political aspirants in the region knew that securing Tinubu's nod of approval was the best guarantee of electoral victory.
That, I insist, is the profile of a veritable political genius. If Tinubu was once the acknowledge maker or wrecker of others' political careers, why does his presidential campaign seem so besieged and lackluster, about to fizzle out? Why is this wizard of political brinksmanship unable to fend off lurking disaster?
In the past couple of weeks alone, Tinubu's political capital has been depleted. Weeks after outspending other candidates to purchase the APC's ticket, he had an opportunity to demonstrate his political dominance in the southwest. That opportunity came in the form of a governorship election in Osun State. The APC's candidate, Governor Gboyega Oyetola, went into the race with all the advantages of incumbency. Tinubu showed up, determined to shore up his candidate. The main opponent, Ademola Adeleke of the PDP, comes from a prominent family, but was more known for his hard partying theatrics than political influence. Even so, Mr. Dancer trounced Governor Oyetola, claiming 17 of the state's 30 local government areas.
Make no mistake: the APC's loss in Osun was a direct message to Tinubu. He must have left Osun rattled that his own people were out to cut him to size. It was a shocker, but hardly surprising.
For long, Tinubu appeared to fancy himself some iteration – if not an improved version – of Chief Obafemi Awolowo. For good reason, the Yoruba hold Awo as a peerless icon. If they revere the late statesman, it's because – despite his flaws – he earned every bit of their adoration. He oversaw the modernist transformation of the Western region, a feat he achieved by championing free education and healthcare as well as investing in infrastructure. Awo was both cerebral and pragmatic, a man whose political actions were fertilized by deep reflection on society.
By contrast, Tinubu is an intellectual paperweight, a man who has sought to reap more from his geopolitical zone than he ever planted. His unlikely rise in politics seemed to encourage him to hubris. Without doing Awo's work, he demanded the late sage's preferment.
His political undoing was always on the cards. But I believe he accelerated it with what I call his Abeokuta Declaration. Politically attuned Nigerians will long recall that moment when Tinubu went to Abeokuta to declare that it was his turn to be Nigeria's president. In that outing, he managed to insult everybody within view and without. He asserted that he made Muhammadu Buhari president after a string of failures by Buhari's Igbo collaborators. He belittled the state's governor to his, basically taking all credit for the man's governorship.
It was a cringe-worthy performance. As his stunned kinsfolk looked on, Tinubu – as feeble a man as you're likely to find anywhere – presided over his own transformation to godhead!
After watching that weird drama, a Yoruba friend called to tell me he believed Tinubu had diminished his stock in Yorubaland. I wasn't quite sure about his call. But after beholding the shellacking in Osun State, I have little or no doubt.
As if he had not inflicted enough damage to himself, Tinubu chose former Governor Kashim Shettima as his Vice Presidential candidate, going for a Muslim-Muslim ticket. Nigeria is in a hyper state of polarization. The country seethes with inter-ethnic distrust and inter-religious discord. Nigerians have been on edge for sometime, their living space devastated by unchecked terrorist acts by extremist Islamist groups and run-away violence by herdsmen. Buhari's mindless nepotism has exacerbated feelings of sectional injustice and marginalization.
Given that climate, Tinubu's VP choice was worse than tone-deaf. It amounted to spitting in the faces of half of the Nigerian electorate. What was worse, Tinubu knew that he'd made a terrible decision. I know because of what he and his campaign did at the event where his VP was officially unveiled. They recruited a few louts, dressed the inept, famished actors in ecclesial garments, and paraded them as prelates come to bless the ticket. It was a desperate calculation, informed by a misconceived view that he would become more electorally appealing in the country's northern half.
A principled leader would have come before Nigerians and attempted to explain his choice. Instead, Tinubu orchestrated a hoax, a pathetic, easy-to-unmask gambit. How are Nigerians to ever trust any statement that proceeds from his lips?
Later, in an egregious assault on language and logic, Shettima described himself and Tinubu as Nigeria's "dream team." Which declaration should make every enlightened Nigerian wish, instead, for a "nightmare team"!
The truth is that, from the outset, Tinubu was damaged goods. His physical health is palpably compromised. His hands shake, he speaks with great difficulty, and it's impossible to erase from the memory of Nigerians that viral video of his agbada apparently smeared with piss. Nigerians know full well the peril of entrusting their affairs to men of wretched health. They've seen too much of Sani Abacha, Umaru Yar'Adua, and Buhari to be in a haste to hire another infirm captain of their ship of state.
Tinubu deserves Nigerians' collective mercy. It's an apt act of mercy to excuse an ailing man from the arduous task of leadership, and to send him home to mind his failing health.
~Prof. Okey Ndibe