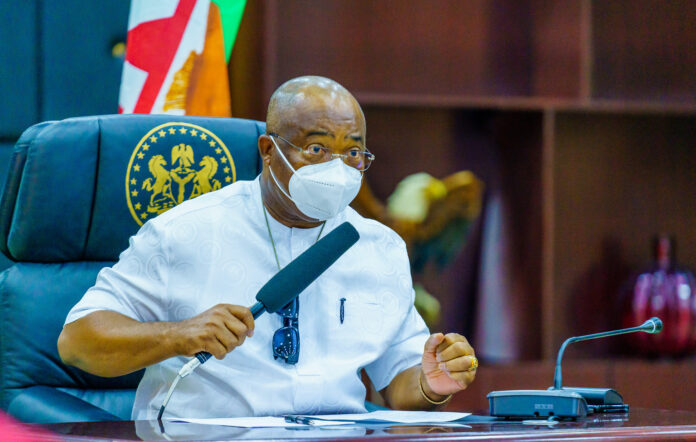 …under Hope Uzodinma, 800 defenseless civilians died in 20 months, 80 communities attacked and over 900 civilian homes burnt or destroyed
The International Society for Civil Liberties and Rule of Law (Intersociety), strongly condemns the massacre of 14 natives and friends of Otulu Community in Oru West Local Government Area of Imo State by Nigerian Army-allied/trained militia Ebubeagu Government Militia, controlled and funded by the Hope Uzodinma led Government of Imo State. From preliminary findings obtained by Intersociety, the 14 unarmed and defenseless citizens were shot at close range and massacred in neighboring Awo-Mama Community in Oru East Local Government Area of the State when they were attending a traditional marriage in Awo-Mama Village, called OKWUOJI. Scores of others were alsoinjured. As if the above dastardly act was not enough, it was further reported that hours later, not less than 20 young men were abducted when the same Army-allied/trained Militia invaded a popular Betting Shop in Okwudor Community, Njaba Local Government Area of Imo State. The abducted victims were labeled "Unknown Gunmen", blindfolded and taken away to unknown destinations till now.
Massacre Of 14 And Abduction Of 20 Perpetrated Less Than 24hrs After Our Documentary
The Awo-Mama massacre of 14 and Okwudor abduction of 20 had taken place less than 24hours after the release of our International Documentary that took place in USA and United Kingdom. The int'l documentary had found that "in past 20 months or Oct 2020-June 2022, soldiers of the Nigerian Military and their allied/trained Ebubeagu Government Militia and other security agencies andagents including various police crack squads attacked 150 Communities in Eastern Nigeria, killed 1,360 defenseless citizens, burnt or destroyed 1,450 civilian homes, disappeared hundreds without traces, rendered 51,000 homeless and forced them out of their ancestral homes, burnt or destroyed or looted properties worth not less thanN57billion and caused the loss of N600billion worth oftrade and investments following the Eastern Militarysiege and atrocities".
800 Killed Under Hope Uzodinma, 80 Communities Raided And 900 Homes Burnt/Destroyed
Imo State had borne the brunt of the above referenced shocking statistics in the past 20 months or Oct 2020 to June 2022. In the past 18 days of July 2022, the state security actor killings and burnings in the State, targeted at members of the defenseless civilian population have continued unabated-with at least 40 more civilians killed and several civilian homes set ablaze or destroyed. In other words, Imo State took over half of all the killings and property destructions in the past 20 months and 18 days or Oct 2020-18th July 2022. The State under Gov Hope Uzodinma had accounted for at least 840 civilian deaths in 20 months and 18 days if the last 18 days of July 2022 are added. Imo State also accounted for at least 80 communal invasions perpetrated mostly by soldiers of the Nigerian Military and their allied Ebubeagu Government Militia. The military attacks and invasion of the not less than 80 civilian communities in the State also led to burning or destruction of not less than 900 civilian homes mostly located in Oru East, Oru West, Njaba, Mbaitoli, Ohaji-Egbema, Oguta, Okigwe, Ideato North, Orlu, Mbaise, Owerri metropolis and so on. Over half of the rural defenseless civilians, forced out of their ancestral homes and rendered homeless are also from Imo State as well as total properties lost. The second worst hit State is Rivers (Obigbo Army war-grade attacks of Oct-Nov 2020). Ebonyi State, presently engulfed in the state actor sponsored inter communal bloodsheds and property destructions and political rivalries is the third worst hit State, followed by Abia, Anambra, Akwa Ibom, Enugu and Cross River. Delta State recorded the lowest statistics so far.
Unmasking The Monstrous "Ebubeagu Govt Militias Of Imo And Ebonyi States"
The formation of the Nigerian Army-allied/trained"Ebubeagu Government Militia" has independently been found to be a counterfeit security arrangement made in April 2021 by Gov Dave Umahi of Ebonyi State in his capacity as 'Chairman of the Southeast Governors Forum'. The camouflaged Sub-National security arrangement was hurriedly imposed on the Southeastgeneral population as "anti Herdsmen invaders Government Vigilantes", and it was strongly opposed byIntersociety, ADF and others which saw it as pro Herdsmen invaders and anti Eastern population, territories and boundaries' security and safety measures disguised in the contrary.
The promoters of the anarchist and atrocious GovernmentMilitias had claimed that the outfit was formed to reclaim forests, bushes and farmlands taken over by Herdsmen invaders and ward off potential threats from them. Months after, the outfit not only began to unveil its true color and intents, but also became a channel for formation, movement and operation of fifth columnist counterfeitersthat counterfeit the violent defensive activities of the Eastern Security Network and fully align themselves with lopsidedly composed and sectionalized Nigerian security forces to massacre defenseless Eastern citizens and destroy or burn or loot or pillage their properties with reckless abandon and impunity. The outfit also became conformist channels through which fifth columnist counterfeiters and invading Jihadist Fulani Herdsmeninvade and occupy Eastern forests, bushes and farmlands. In other words, the anarchist and atrocious "Ebubeagu Government Militia" have transformed into pro Jihadist Herdsmen and anti Eastern territory and populationmilitia. This is to the extent that they, in alliance with conventional security forces such as Army and Policepersonnel and their top commanders drafted to Eastern Nigeria, have been responsible for several hundreds of abductions and disappearances as well as thousands of property (defenseless civilian houses and properties) burnings, killings and maiming in the past 20 months and 18 days or Oct 2020 to 18th July 2022.
The Int'l Documentary is attached here: