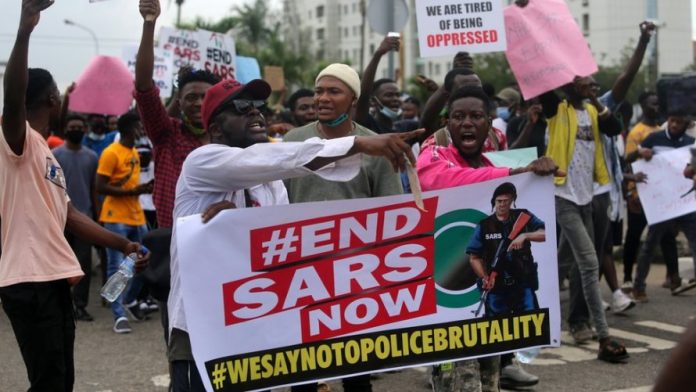 The word BlockChain in Technology is synonymous with decentralized, uncontrollable, and transparency.
Blockchain is a distributed ledger technology (DLT) that allows data to be stored globally on thousands of servers – while letting anyone on the network see everyone else's entries in near real-time. That makes it difficult for one user to gain control of, or game, the network.
Blockchain technology enables Cryptocurrencies like Bitcoin to operate without needing a central authority.
As I analyze the now global Nigerian Protests, I realized that it's the greatest strength is the absence of a central authority. In Owerri, Imo State, Governor Hope Uzodinma wanted to talk with the leaders of the protest and the people yelled "We have no leader…" Something moved inside me and I knew immediately that this is a BlockChain Revolution – a decentralized movement. Where there's no central authority, the cause cannot be easily hijacked. The security of the BlockChain technology is in the absence of a Central Authority.
I wish the present leaders of Nigeria awaken to the seriousness of this ongoing revolution – it is decentralized. It is guerrilla. It is cryptic. It is deeper than what you have ever seen. It is the PEOPLE… It is not a person so it is not personal. It is ALL NIGERIANS awakening to the fact that we all have been oppressed, destroyed, enslaved and reduced to the lowest level of life by the Nigerian system and we are saying "Thus far, no farther". We are pulling down the system…. We are asking for a complete restructuring of the system…. We need a new constitution….. We need a new Nigeria… This is not a political movement… This is not about Buhari… We have realized that if Buhari leaves office today, the next president wouldn't be any better… The problem is systematic and we are targeting that system. The same system has turned our police men into impoverished street gun runners and converted our graduates into educated social media beggers. This is the first time that Nigerians are stepping away from the matrix to fight the matrix. It is an awakening – a full blown BlockChain Revolution.
Faint Not Nigerians….
A sleeping Giant is still a giant.
Nigeria is awake and the world will RESPECT Green White Green after this season.
Maranatha.