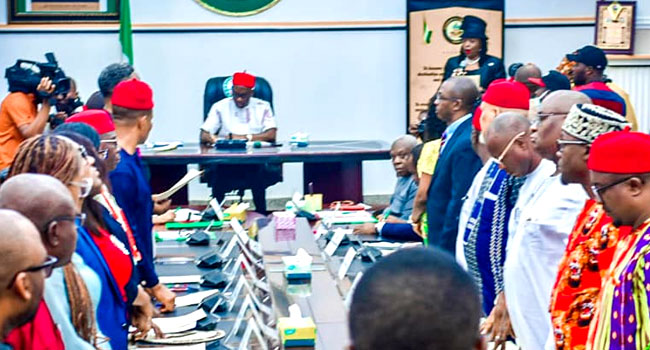 An obviously enraged Anambra state governor, Prof Chukwuma Soludo, has pledged justice for the slain pregnant Fatima and her four children, vowing that no stone would be left unturned in fishing out and dealing with their assailants.
Soludo has, without mincing words, described the May 20 killing of pregnant Fatima and her four children by unidentified assailants as "barbaric and unacceptable".
In a statement signed by Christian Aburime, his Chief Press Secretary, the governor vowed to fish out the perpetrators and ensure they were dealt with according to law.
Soludo's pledge resonated in the observation by Lagos lawyer, Ebun-Olu Adegboruwa who described the killing as an insensate act of terrorism.
Adegboruwa noted that the concept of national unity will be a mirage if citizens cannot be safe in any location they find themselves.
Noting that the killing is unacceptable, the Senior Advocate of Nigeria said, "Lady Fatima, an indigene of Adamawa State by birth, was gunned down by "unknown gunmen", recently. Her four innocent children were also mowed down in this insensate act of terrorism, recklessly perpetrated without any justification whatsoever.
"No reason has been given and none could have been proffered for this criminal act of brutality, extended even to toddlers. There should be no hiding place for the barbarians; so Governor Charles Soludo owes the nation the sacred duty to do all in his powers to fish out those who killed Lady Fatima and her children, in their prime".
Soludo said that all law-abiding Nigerians, irrespective of tribe or religion, were entitled to reside and or do business in any part of the country, including the Southeast and in Anambra without fear of unlawful harassment, molestation or attack of any kind, under any guise by anyone or group.
He said "no group or Nigerian is justified to harass, attack or kill any citizen of Nigeria or anyone resident in Nigeria under any guise whatsoever unless in lawful execution of a court sentence.
"Perpetrators of these heinous atrocities and their sponsors are testing the resolve of the Government and people of Anambra State, but I assure you that efforts are underway to fish out and bring to justice whoever is behind the criminal activities.
"All Nigerians living or doing business in Anambra are assured, of the resolve of the State government to ensure adequate protection of their lives and properties at all times," he stated.