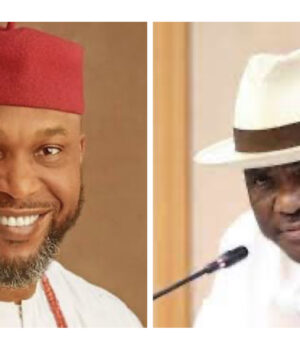 Wike Vs Osita by Umar Sani
I listened to the former minister of Aviation under GEJ Osita Chidoka on National Television when he threw a jab at the Fct minister Nyesom Wike to explain to Rivers people how he squandered the over N4Trillion he realized from statutory allocation (FAAC), 13% derivation, and internally generated revenue ( IGR) as Governor of Rivers State. Wike as a media freak responds to every issue raised against him or his administration, I expected a swift reaction. On the contrary, my anticipation did not materialize. Having anxiously waited for a robust response what stares me in the face is a deafening silence.
What could have informed such silence, is it possible that the allegation is true and cannot be substantiated or that the fear of accountability propelled the silence? I read somewhere that some elders in Rivers State had given him a clean bill of health. What is curious about such whitewash is that the elders have arrogated to themselves the responsibility of being a credible auditing firm in the likes of Pricewaterhouse & Coopers, Ernst & Young, KPMG, and Delloite to review and examine the books and exculpate him from blame.
Feelers coming from Rivers State appear to be uncomplimentary, the faceoff with SIM Fubara has opened a whole Pandora's box. The question on people's lips is what happened to their resources. They further contended that is such a humongous sum used only to construct twelve flyovers without impacting the health, education, Agriculture, and other critical sectors of the state economy. These sectors they opined have deliberately been shut down.
Insinuations are rife that the critical government infrastructure bequeathed to Rivers State since the time of Military Governor Alfred Diete Spiff had been fraudulently acquired as a personal estate. They listed public houses and Abbatoir which was leased to the Hausa Butchers community as part of the conversion process to private property. Furthermore, government buildings were converted into shopping malls known as hyper-city. The sum of $300m was alleged to have been released to different communities as compensation by the NNPC, but not a single kobo was disbursed to such communities. He was also accused of not embarking on any meaningful empowerment program to uplift the standard of living of the poor.
The Ijaw nation is reported to be upset with the statement credited to him from the outcome of his meeting with some PDP governors in his office stating that he cannot be intimidated by anyone be it thugs or Ijaw or whosoever as whatever he wants he must do.
The Ijaw nation feels slighted by that provocative statement being the fourth largest ethnic nationality in the country spread across seven states, they believe they were deliberately being humiliated as they were instrumental to his becoming a governor and should not be so described. His Ikwerre tribe they enthused is neither here nor there as he has refused to align with the Nd'igbo, his tribe they claimed exists only within four LGAs in the state.
It is a generally held view that his statement claiming to have paid all election expenses to aspirants and candidates was a manifestation of the squandermania of
the resources of Rivers State. His presidential aspirations, APC's expenses in Rivers, and monies deployed to realize his ministerial choice of the federal capital territory were listed as frivolous expenditures. The feud between himself and Sim is regarded as being the catalyst in rescuing Rivers State from sinking into the abyss.