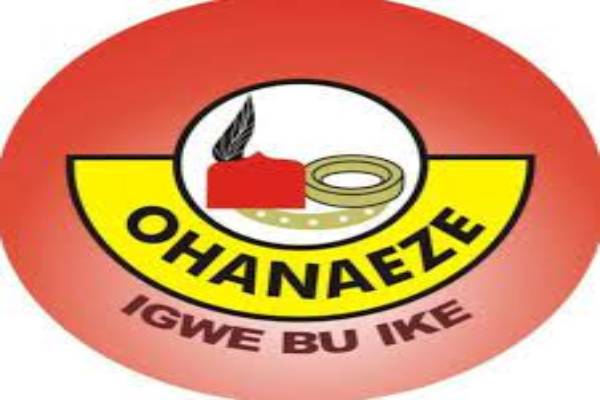 A MESSAGE TO THE SONS AND DAUGHTERS OF IGBOLAND
1.       The Ohanaeze Ndigbo Worldwide as the umbrella organization for all the sons and daughters of Igbo land does not wax eloquent on partisan politics. This is because, our sons and daughters are fully entrenched in all the political parties in Nigeria. However, Ohanaeze Ndigbo does not shy away from national politics especially as it affects the interest of our people. It is to this end, that Ohanaeze insists that going by the political culture of sharing, zoning and rotation of power which have been in existence since the Nigeria came into existence, it is the turn of the South East to produce a President for Nigeria in 2023. A delegation of Ohanaeze Ndigbo led by the late Ambassador Professor George Obiozor met with the British High Commission, Abuja; Chief Dr. Olusegun Obasanjo, Chief E K Clarke, Chief Ayo Adebanjo, the Northern Leaders, etc to explain the irrevocable South East position and her predicaments.
2.       Ohanaeze Ndigbo watched with keen interest, sadness and reproach the bourgeois cash and carry politics, conspiracy, cold intrigues, betrayals, hypocrisy, opportunism and other forms of machinations within the mainstream political parties, against the South East, even from the least expected.
3.       One of the presidential aspirants was very allergic to the manifest sleaze, corruption, betrayals and bourgeois transactions that took over the mainstream political parties. It was Mr. Peter Gregory Obi from Agulu, Anaocha LGA, Anambra State, South East of Nigeria.
4.       Peter Obi was the governor of Anambra State between 2017 and 2014. Obi rendered awesome quality service to his people as a governor.  During his incumbency, Obi displayed exceptional prudence, unassailable integrity, dispositional humility, character comeliness and organizational acumen quite beyond the rusts and tarnish of even the least charitable among the humans. The Obi track records show that he is a purveyor of superior morals with a fortitude equal to the martyrs of old. The Obi character and prospectus are like the invaluable treasures stored in heaven.
5.       Obi left the Peoples' Democratic Party and joined the Labour Party.  Tongues wagged from various corners that the Labour will labour in vain for lack of structure. However students of political history will readily recall that it is the ideas from gifted men that develop concentrically into ideology, movements, revolutions and finally to a political structure. And today, the Obi-Datti movement has become an enviable irreversible, irrepressible and formidable structure in Nigeria.
6.       On Thursday, February 2, 2023, history was made at the Wells Carlton Hotel, Asokoro, Abuja. Eminent Nigerians comprising the members of Middle Belt led by Dr. Bitrus Porgu,  the South South or rather the PANDEF led by Chief E K Clarke, the Afenifere led by Chief Ayo Adebanjo and the Ohanaeze Ndigbo led by Ambassador Okey Emuchay, MFR gathered to endorse Mr. Peter Obi, the Presidential candidate of the Labour Party. Speakers after speakers described Obi as a man who with a mere force of morals, uprightness, persuasions, robust intellect and goodwill is capable of transforming the political narratives of the most populous, rich but one of the most backward African countries. To most persons in attendance, Obi is a change agent who has come to rescue Nigeria from a precarious condition. Yet to some others, Obi is a safety net for the people at the bottom of economic totem. Still some others acknowledged that anyone can hold the helm when the sea is calm.  But one who can hold the helm in moments of turbulence is the master; and that Obi stands out among others.  For Adebanjo, it is either Obi or a death knell for Nigeria. For Chief Nnia Nwodo, there is always a tide in the affairs of men…urging Nigerians to recognize and seize the rare opportunity which Obi has provided. In unison, all acknowledged that Obi is the best thing God has done for Nigeria in this century; a game changer, soldier of morals, democracy archetype, the popular sentiment of Nigerian youths, an abundance philosopher, prudent resource manager, ethnic barrier-breaker and a quintessential audacious Igbo icon.
7.       The Secretary General of Ohanaeze Ndigbo, Ambassador Emuchay expressed profound gratitude that Nigerians from the North, East, West and South have endorsed our son. He reiterated that Ohanaeze simply donated Obi to Nigeria and that he is fulfilled that Nigerians have adopted him as their son.
8.       Based on the above backdrop, Ohanaeze Ndigbo therefore admonishes the Igbo that politics is not always the art of the possible, it is most times the art of choosing between the reasonable alternatives. In the words of Frantz Fanon, each generation must out of relative obscurity, discover its mission, fulfil it or betray it. Now that Nigerians are moving from a winter of despair to a summer of hope, through our son, Mr. Peter Obi, is it sensible that agitations based on marginalization and other forms of relative deprivations should continue? Is it sensible to turn the barrel of the gun inwards? And is it sensible for any noble Igbo son and daughter to embark on self-destruction such as the sit at home syndrome, destruction of public utilities, among others
9.       Finally, Ohanaeze Ndigbo calls on the South East Governors led by Engr. Dave Umahi, the South East Traditional Rulers led by His Majesty, Ambassador Lawrence Agubuzu CFR, the Igbo Clergy, the Christian Association of Nigeria- CAN, the Most Rev. Daniel Chukwudumebi Okoh; the ASETU-Association of South East Town Unions led by Emeka Diwe, Women organizations, the Student bodies, Market Associations, the Igbo vigilantes, etc to rise in one voice to condemn and tackle the insecurity in their respective jurisdictions.
10.   Be reminded that enormous power lies in your PVC.
Dr.Chiedozie Alex Ogbonnia; National Publicity Secretary, Ohaneze Ndigbo Worldwide