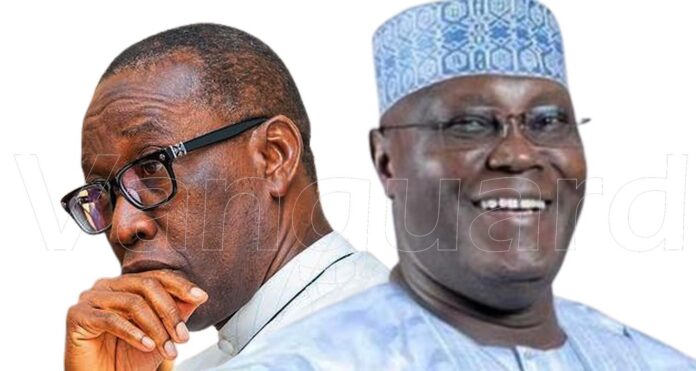 By Emma Amaize, Regional Editor, South-South
Initial blunders
UNKNOWN to some Peoples Democratic Party, PDP political front-runners and their cronies in Delta State, who, for about two weeks, stealthily and openly ran a red mark campaign to taint the governor, Senator Ifeanyi Okowa, over the party's vice presidential candidate ticket, the political tactician had captured the heart of the Presidential Candidate, Alhaji Atiku Abubakar, before they even kick started the project.
They also erroneously calculated that he was very anxious to become running mate to Alhaji Abubakar, not knowing that on at least two occasions before the last National Convention of the party, the presidential candidate had virtually offered him the position, but he (Okowa) cautiously turned it down.
Besides the fact that Abubakar himself wanted Okowa as his running mate, former governor of Delta state and the governor's political mentor, Chief James Ibori, who, allegedly, was pushing another candidate for presidential running mate closed ranks with his "political son" when he read the handwriting on the wall in Abuja.
Game-changer
A privileged source said: "The game changed positively for Okowa, Delta state and South-South region when Ibori and others joined forces with him."
Saturday Vanguard was also informed that some high-ranking leaders mounted suffocating pressure on Ibori when they heard he was having issues with Okowa and pleaded with him to support the governor's ambition in the interest of the state and party.
Undeniably, the smear campaign on social media was quite forceful and negative that those who knew Okowa pondered if it was the same person that his own people had so demonized.
Ibori, has had a long -time relationship with Atiku Abubakar, dating back to his time as governor (1999 to 2007), both he and his successor, Dr. Emmanuel Uduaghan were to also go for vice presidential ticket of the party but for how things turned out at the time.
The good news for Delta PDP is that with Okowa and Ibori re-uniting in Abuja after the May 25 governorship primary that stirred the Ibori PDP political family, both leaders, including Dr. Uduaghan, are now in a better frame of mind to brainstorm on how the party will galvanize Deltans for another victory in 2023.
Wike, resilient fighter
That the battle for Abubakar's running mate, basically between Governor Okowa and his Rivers state counterpart, Nyesom Wike, was absorbing is putting it mildly, it was extraordinarily breathtaking.
Wike, who had earlier bragged in a small screen interview that he would not accept vice presidential position if he lost out in the presidential primary, put up a very strong fight that five days before Abubakar announced his preferred running mate, Thursday, his name was on the lips of many as the special one.
In fact, the consultative committee set up by the party to evaluate the contenders, Tuesday, narrowed to Wike as the first option, which rattled many, including insiders of Abubakar kitchen cabinet and leaders of the party.
A number of party leaders pointed at the temper of the Rivers governor, seeming authoritarian predispositions and predilection for combats even with strategic associates, contending that Okowa was more politically and intellectually wise to bring better value to governance at the federal level if Nigerians give their mandate to the party.
On the other hand, the smudge campaign was not only against Okowa, but also on Wike, runner up to Abubakar in the party's presidential primary, as a viral video of him suggesting he was concluding plan to join the rival All Progressives Congress, APC, surfaced, days ago, an allegation his media aide, Kelvin Ebri, disavowed.
Before Thursday presentation
The inner team of the presidential candidate was initially taken aback like others on the news that the consultative committee had picked Wike, but they discerned the real special one four days before the Thursday unveiling.
Selected top party men in Abuja only got to know, Wednesday night, following series of meeting between Okowa and stop hierarchy of the party, barely 24 hours to Thursday announcement.
In other words, Okowa was familiar with the final decision of Abubakar long before he was finally unveiled and was not perturbed by the earlier kite that the party's consultative committee had picked Wike. He informally accepted the offer before the presidential candidate himself made it public on Thursday.
Sometime, last year, some politicians from both the southern and northern parts of the country lobbied him to make himself available for vice president, but he told them he would pray and wait to know God's direction for him.
While waiting, lobbyists came again urging him to go for president instead. Few politicians in the state were privy to the pressure to make him run for president as agreed by Southern governors, but political constraints that emerged months after, the need to ensure party took the best position that would make it win the 2023 presidential election and some personal reasons made him to jettison his ambition.
An informed source hinted: "In all, Okowa just decided to rest after handing over to his successor, next year, and that was the setting until the governorship primary and National Convention of the party.
Why sludge campaign collapsed
"Okowa's loyalty which he built over the years, his works, youth development, youth empowerment record, acknowledged humility and vox populi spoke a lot for him when it mattered most.
"While the diversionary campaign of calumny was on, many of great leaders in the country, and elder statesmen, who love him rose in support of him.
"When Alhaji Atiku Abubakar visited Delta to lobby delegates, the connection between him and Okowa, who worked sleeplessly for his eventual victory at the Convention was evident. Some of us knew at that point that they would work together as presidential and vice presidential candidates.
"But most critical to his emergence is that he found approval in the heart of the presidential candidate and understandably had the grace of God working in his favour.
"The presidential candidate also knew he was not desperate for the ticket despite the chatter about him because he had interacted with him before the offensive and knew his position when he motioned him much earlier," the source added.
Atiku opens up
Speaking on Thursday when he finally declared Okowa his running mate, Atiku, who had kept some information private, disclosed: "In arriving at the decision, I held wide consultations with various stakeholders in our party, including our governors, National Working Committee, Board of Trustees and other leaders, to seek their inputs and their wisdom."
"In these consultations, I made clear that my running mate would have the potential to succeed me at a moment's notice, that is, a President-in-waiting.
"Accordingly, let me state that the person I have chosen as my running mate possesses all those identified qualities. He personifies not only the seriousness the current moment represents for our country but also the future that our young people yearn for and deserve. He is a serving state governor who has demonstrated in his state and through his conduct that governance is about service to the people.
"I know that he will not only add excitement to our already energized ticket and campaign, but will also help to bring focus, discipline and stability to our government, come 2023. I am pleased, therefore, to announce here my choice of running mate who will help to lead us to victory next year not only in the Presidential election but also in the governorship and legislative elections.
"And, he will be by my side as I work hard every day to provide our people with security, revive our economy, improve education and unite our country. "He has both legislative and executive experiences. Please join me in welcoming to the ticket the next vice president of the Federal Republic of Nigeria, His Excellency Governor Dr. Ifeanyi Arthur Okowa," he said.