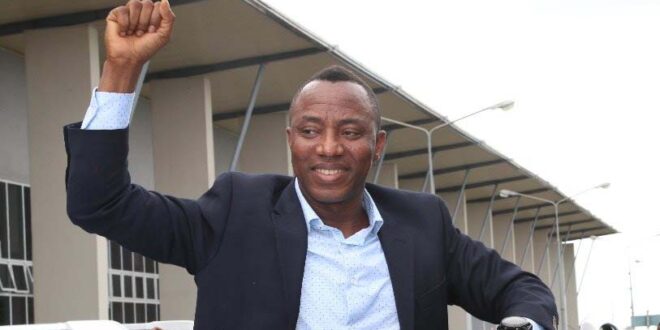 Sahara Reporters Publisher and Activist, Omoyele Sowore has taken a swipe at a former presidential aide, Reno Omokri, and the governor of Rivers State, Nyesom Wike, Njenje Media News reports.
According to Sowore, Omokri protests for his stomach as he has always been loyal to a course that would favor himself.
The 2019 AAC Presidential Candidate in the Nigerian elections who made this known in an exclusive interview with Njenje Media's Maazi Ezeoke also stood by his caustic remark on Rivers State Governor, Nyesom Wike over the latter's demolition of a hotel in his State.
"Reno Omokri is a political jobber. He is a publicist legendary. He worked for Atiku during the last elections. Reno Omokri kept mute in the abduction of the Chibok girls but when Leah Sharibu was kidnapped he was all over the place with t-shirts. He protests for his stomach. I heard he called off the protest because of Ramadan. My people protested every day and he was only there thrice. What I know about him is that he worked for El-Rufai and Atiku under Obasanjo. I am not doing this to benefit myself or get the next job. I am doing it for my conscience."
On Wike, the Sahara Reporters owner had this to say:
"Wike has always been mad. After the hotel, he went to Oyigbo where they killed people and tortured some people in the barracks. I have always known Wike as a dictator and baby tyrant who should never have been allowed to taste power."
On accusations that is Sahara Reporters outfit was being paid by politicians to run stories, Sowore denied flatly and claimed he has never received money from any politician past or present.
"I never received funding from any politician. In fact, Jonathan tried to give me money through Ima Niboro his former aide when he came to New York. They said Atiku bought me a $5 million house in California. If I had any dealings with APC when they detained me don't you think they would have put out things about me to the public as they did to Nnamdi Kanu? They would have blackmailed me. They even asked me what I wanted and I said nothing. They wanted me to apologize to Buhari so that they would let me go according to my lawyer Femi Falana. I started as a student union activist when they were distributing Peugeot 505 to the leaders. I have been doing this for 30 years and I have never done this. They once accused me of working for Tinubu but my platform carried the most damaging stories and they changed to Jonathan. I have never met a Nigerian Head of State ever in my life because I don't need them to do what I do."
Watch the full interview below: