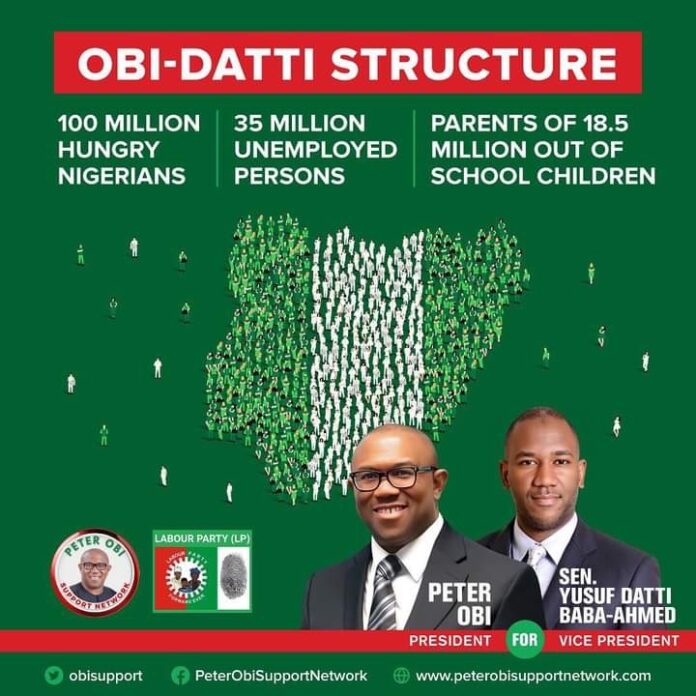 By Nnenna Oparaocha
When the Labour Party Presidential Candidate, in a live interview with Seun of Channels TV, said he is hoping for a bigger miracle in 2023, what came to mind was, truly, Nigeria needs miraculous healing. I do know, full well, that the next president of our dear country would be saddled with uphill tasks: from a recessed economy to insecurity, and the unity of Nigeria. The task requires someone who is healthy physically and spiritually; a leader who is competent, with proven capability and strong moral standing, laced with adequate political will to restore Nigeria to her days of glory.
Little wonder Nigerians are rallying around Peter Obi. The task ahead is enormous. Certainly, we do not need a president with obsolete ideas, or one whose eyes and mind are still on oil. We have enormous resources — natural and human — we are yet to exploit. And Nigerians trust him to deliver. Obi understands the challenges bedevilling Nigeria, and understands the needs of Nigerians. And Nigerians are confident that he will deliver.
The national chairman of the All Progressives Congress (APC), Senator Abdullahi Adamu, on Arise TV described the former governor of Anambra State and apparently the most popular presidential candidate for the 2023 presidential election as someone who is well grounded, competent and means well for Nigeria. He added that he believes in Obi and would never underestimate him.
This comment from Sen. Adamu reminds me of how the Peter Obi-led administration annihilated kidnappers in Anambra State. It was a total clean-up! Obi's excellent performance touched all the sectors in the state, from transforming the education and health sectors to job creation and security.
In terms of unity, I stand to be corrected, the major reason the nationhood of Nigeria is shaking is the lack of resources and political inclusion. It is an oxymoron to desire unity in the absence of equity, justice and fairness. When we elect a leader who is committed to doing the right thing; equitable distribution of economic resources, developmental projects and political inclusion of every region, no region will feel marginalised. Like Obi has repeatedly said, a good economy doesn't know ethnicity or religious affiliation. It will benefit all across ethnic and religious divides. A bad economy will not affect only a section of the country. Insecurity in Northern or Southern Nigeria is insecurity in Nigeria. So, why not just elect someone who cares about fixing Nigeria and not fixing a particular ethnic group?
HE Peter Obi, based on proven capability, is the best deal to lead that healing process.
LetUsTakeBackOurCountry
Nnenna wrtes for PO Express Media, POEM.