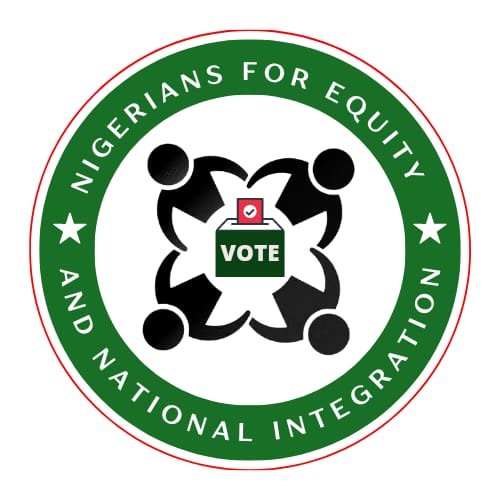 *PRESS STATEMENT*
*13TH MAY 2022*
*PDP FLAGRANTLY FLOUTED ITS OWN CONSTITUTION BY THROWING OPEN THE PRESIDENTIAL TICKET.*
NIGERIANS FOR EQUITY and NATIONAL INTEGRATION NIFEANI has viewed with shock and dismay the recent decision of the People's Democratic Party PDP to throw her Presidential ticket open and jettison zoning which is enshrined in the Party's Constitution.
In a statement signed by her spokesperson, Hon. Ichie Ken Agbim and her National President Nze Ugo-Akpe Onwuka (Oyi), the group flayed the National Executive Committee (NEC) and the Board of Trustees of the party for not being courageous enough to tow the path of honour and follow the parties constitutional provisions of power rotation and zoning by zoning the Presidential ticket to the South East.
The group made reference to Chapter 1 section 7, clause 3c of the Party's Constitution which spells out in clear, unambiguous terms of, "Adhering to the policy of the rotation and zoning of party and public elective offices in pursuance of the principle of equity, justice and fairness".
NIFEANI further observed that the PDP has missed a golden opportunity to heal the wounds of the nation and contribute to national unity and integration by zoning the Presidential ticket to the South East which is the right zone to take a shot at the presidency at this auspicious time.
The group in the statement opined that, "the People's Democratic Party PDP by her unfortunate action has failed to reward the South East for many years of solid, steadfast loyalty and support to the party, and therefore risk the chances of losing the votes of the South East if a South Easterner fails to clinch the the ticket of the party".
They however, concluded that the PDP still stands a chance by a consensus arrangement to favor the South East as a remedial step or risk loosing the 2023 election simply on the grounds of not recognizing fairness, equity and justice, given all the advice and admonitions of well meaning Nigerians and various Sociocultural groups in the Country.
*CONTACT:* nigeriansforequity@gmail.com
+234 708 312 1937