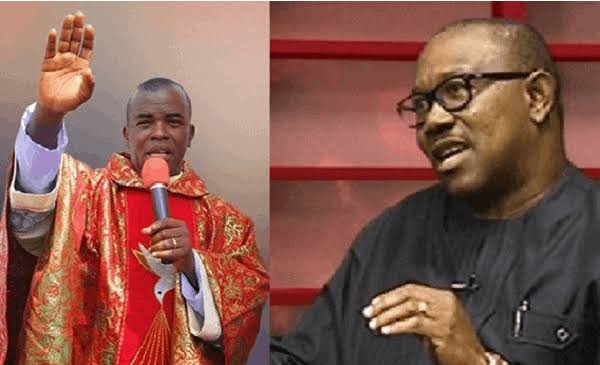 A Prominent Catholic Priest, Rev Father Ejike Mbaka has revealed the fate of Labour Party Presidential Candidate, Mr Peter Obi in the 2023 Presidential elections.
Rev Mbaka, renowned for his political prophecies had in the past predicted the ascension of President Buhari and Governor Hope Uzodinma of Imo State.
In the new prophecy, Mbaka said that Peter Obi will not be the next president of Nigeria.
Father Mbaka, the head of the Adoration Ministry, Enugu, made this known at a weekly prayer meeting.
Peter Obi had after joining the Labour Party from the Peoples Democratic Party (PDP), maintained a soaring popularity amongst youths and netizens.
The cleric said Obi would not become the president of Nigeria in 2023 because he lacks the spirit of generosity.
In his words:
"It is better to have a president who is a gifted old man than a young man with 'gum' hands."
He was a bit positive on former Vice President, Atiku as he said he has shown that he is ready to run for office because he is not running alongside Obi in 2023.
Mbaka insisted that the former Anambra governor will only win the forthcoming presidential election if he decides to kneel on the Adoration altar.
The cleric added, "Peter Obi has a mouthful, he has nowhere to go unless he kneels on the Adoration altar."
He also accused Peter Obi of insulting the holy spirit.