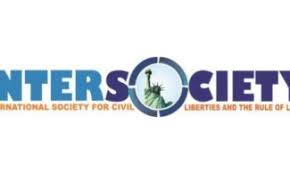 How Anarchists And Architects Of "Born-To-Rule" In INEC Disenfranchised 77.7m From Feb 2023 Presidential Poll
…Intersociety told Chief Diplomats of 32 International Democracies in Nigeria
Onitsha, Eastern Nigeria
Thursday, 16th Feb 2023
The International Society for Civil Liberties and Rule of Law (Intersociety) had told the Diplomatic Chiefs or Ambassadors and High Commissioners and their respected International Home Governments, numbering 32 or 32 Foreign Missions in Nigeria how anarchists and architects of "Born-to-Rule" and "Born-to-be-Ruled" in Nigeria's INEC supervised brutal and heartless disenfranchisement of whopping 77.7m voting age persons who are Nigerians of full blood citizenship using ethnicity and religion and have them excluded from participating and voting in the crucial Feb 25, 2023 Presidential Poll. The 32 International Democracies petitioned include the EU, US, UK, Canada, France, Germany, State of Israel, Italy, Switzerland, Belgium, Denmark, Scotland, Ireland, Spain, Czech, Portugal, Norway, Finland, Austria, Netherlands, Sweden, Poland, Greece, Hungary, Bulgaria, Slovakia, Australia, the Vatican, South Korea, Brazil, Mexico and the world's topmost Intergovernmental organization, the UN. The above was contained in Intersociety's Special Letter to them, dated Friday, 10th Feb 2023 in which they were correctly informed that the worst of INEC's armada of illegalities was disenfranchisement of whopping 77.7m voting citizens, systematically and ethno-religiously targeted or aimed at brutally suppressing the voting population and strength of the voting citizens of non Muslim faith particularly those from the South-East and South-South including their sedentary and pastoralist components.
77.7m Disenfranchisement And Ethno-Religious Discrimination In CVR And PVC
Intersociety had in its Special Letter to the 32 respected International Democracies recalled that its 27-Page Special Investigative Report on INEC, unveiled in Enugu on 25th Dec 2022 had generally found that majority, if not most of the millions of citizens of voting age of full blood Nigerian citizenship were disenfranchised and denied voting right by INEC on the grounds of their religion, ethnicity, class and places of work or residence. Found too were unchecked cases of personal data theft and destruction, diversion and impersonation of the registered citizens and citizens-under-registration's PVCs/personal data supplied to INEC. Many, if not most of the tens of millions of citizens denied registration and PVCs are non Muslims of South-East and South-South origin including large numbers of citizens of the two regions living outside their regions where they reside or work. Affected others are a large number of non Eastern Christians and other non Muslims.
On the other hands, Northern citizens of Muslim faith including those living with disabilities were maximally registered and given PVCs that millions of Northern Muslim underage children and illegal migrants were sought after and unlawfully registered by INEC as "PVC Voters" in clear breach of Section 12 of the 2022 Electoral Act as amended whereas in the Southern and Middle-Belt regions, average of three out of every five were not registered and two out of every five denied PVCs. The whopping 77.7m disenfranchised Nigerian citizens of voting age were broken down in the Special Letter to the 32 foreign missions to include 30m unregistered citizens of voting age, 20m registered voters denied permanent voters' cards (PVCs) since 2011, 2015 and 2019 and 9.5m newly registered voters denied PVCs since 2022. Also among the 77.7m disenfranchised citizens excluded from the Feb 25, 2023 Presidential Poll are 18.2m 2022 registrants whose registrations were discriminatorily and flimsily destroyed by INEC during the 2022 CVR. The figure of 77.7m was arrived at by Intersociety going by the 2022 UN population estimates for Nigeria which stood at 218m as at Dec 2022 out of which 55% or 120m are full blood Nigerian citizens of voting age or 18 Years and above.
What Anarchists And Architects Of "Born-To-Rule" In INEC Are Cooking In Feb Presidential Poll
It was saddening and shocking for us at Intersociety to have investigated and found that only estimated 40m of the country's so called "93.5m registered voters" are genuine PVC holders capable of voting conscientiously in the Feb 25, 2023 Presidential Poll, out of which about 35% or 14m may turn out to vote and 65% or 26m especially in the South militarily terrorized and chased away; paving way for injection of projected 18m "dead/fake votes" into the 2023 Presidential Poll final results. In 2015 Presidential Poll, during which 30m plus or 35% of the registered voters 'voted'; 45% or 13.5m were later found to be 'dead/fake' votes majorly, if not mostly from the North. In 2019 Presidential Poll, during which 34% or 28m plus 'voted', about 40% of the votes were later found to be 'dead/fake votes'; majorly, if not mostly from the North.
It must be pointed out clearly that being a registered voter in Nigeria is not a guarantee or a license to vote in any public election or from local government to presidential polls except such a registered voter is issued with PVC and protected and secured to vote especially in the Presidential Poll. On the other hand, 'Dead/Fake Votes' are those votes obtained outside PVC and accreditation/voting technologies and processes which criminally originate from massive thumb-printing of ballot papers and multiple voting in restricted religious and cultural places or quarters especially from the core North using abandoned Northern street children or "Alamajarai". The present "93.5m registered voters for 2023 Presidential Poll", was also independently found to include estimated 20m ineligible identities comprising estimated eight million Muslim children of underage, two million Muslim illegal migrants, four million .fake or fictitious names and six million stolen or diverted identities or PVCs; out of which, 90% or 18m may likely represent 'dead/fake votes' and injected into the Feb 25, 2023 Presidential Poll final results.
What The 32 International Democracies Are Prayerfully And Persuasively Asked To Do
Intersociety had in the Special Letter prayerfully and persuasively asked the Home Governments of the 32 internationally respected Democracies to diplomatically prevail on Nigerian Government and the country's Independent National Electoral Commission (INEC) to critically address grave issues and areas highlighted. Included in our diplomatic calls and prayers was the urgent need for the international bodies petitioned, to prevail on INEC and Nigerian Government to publicly answer sixteen critical questions bordering on number of current PVC holders in the country and their State by State breakdown; and issues of underage, illegal migrants, fake names and voters' security and protection, etc. It is our deepest fear that failure of the respected international Democracy actors to timely compel the duo of INEC and Nigerian Government to address the grave issues and areas ahead of Nigeria's all-important Feb 25, 2023 Presidential Poll will most likely mar the Poll and push the country into post election complex uncertainties beyond the humanitarian intervention and control of the international actors and the UN System.
Signed:
For: International Society for Civil Liberties and Rule of Law (Intersociety)
/s E. Umeagbalasi
Emeka Umeagbalasi, B.Sc., M.Sc.
Criminologist/Researcher
Board Chair @ Intersociety
/s C. Umeche
Chinwe Umeche Esquire, LL.B, BL
Head, Democracy and Good Governance Program @Intersociety
/s U. Igboeli
Obianuju Joy Igboeli Esquire, LL.B, BL
Head, Civil Liberties and Rule of Law @ Intersociety
/s C.Udegbunam
Chidinma Udegbunam Esquire, LL.B, BL
Head, Campaign and Publicity Department @ Intersociety
Contacts:
Phone/WhatsApp: +2348174090052
Email: info@intersociety-ng.org
Website: https://intersociety-ng.org