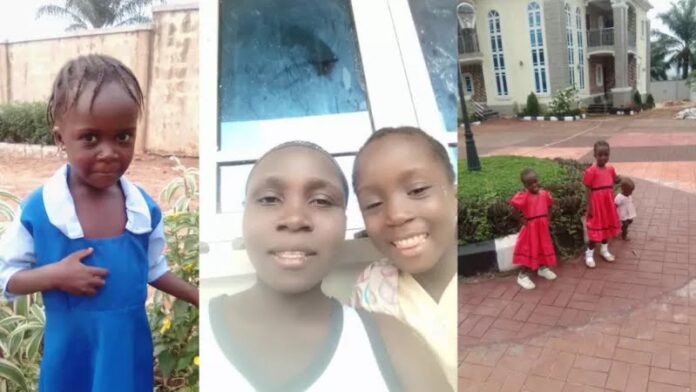 …group identities of their killers publicly mistaken and falsely labeled
…real perpetrators most likely to be street criminal gangs and armed counterfeiters
…efforts of the new Anambra DSS boss (Enoch Pawa) in tracking down the killers commendable
…it is professional intelligence devoid of ethnic profiling and hatred and falsehood or nothing
The Killers Of The Northern Muslim Mother And Her Children In Anambra
A notorious leader of one of the 'street criminal gangs' in Anambra State who hails from Nneni in Anaocha Local Government Area was recently trailed by an experienced undercover to a liquor joint at Nnobi where his phone number was discreetly obtained and later inserted into intelligence tracking machine and other useful information including his movements, locations and nefarious activities obtained. His trailing followed a lead that he and his gang members masterminded the recent killing of two soldiers and a newly married female computer typist at Awgbu Junction. The notorious street criminal gang leader's conversation regarding his gang's planned attacks on security personnel blocking their routes to criminality was also intercepted. He and his gang members have been linked to various violent crimes in and around Umuoji, Abatete, Orakwu, Agulu, Nnobi, Nnewi, Igboukwu, Ezinifite, Uga and Ekwulobia axis. Their high profile crimes include attacking and killing soldiers and police personnel blocking their criminality routes, snatching exotic cars and forceful collection of millions of naira ransoms through forced wireless transfers or cash drops as well as ritual activities, abductions, armed robberies, etc. The group also occasionally resorts to 'counterfeiting' the activities of the violent agitators for purpose of falsely blaming same on them and diverting the attention of the public and security agencies. Part of the gang's counterfeiting activities is launching attacks on security personnel or Northerners to portray same as 'handiwork of ESN'.
It was as a result of the above that a combined team of intelligence and navy personnel laid ambush last weekend (Friday) and arrested the gang leader in his comfort hideout and his arrest two days later on Sunday, 22nd May 2022 sparked off series of violent attacks by his followers including chase-after killing of the Northern Muslim mother and her children at Ajali in Orumba North Local Government Area. The gang members also wrecked havoc at Agulu where they set ablaze a Pick-up Van belonging to a local Vigilante Group as well as in Abatete, Umuoji, Nkpor and Adazi-Nnukwu before escaping to unknown location after their attack at Ajali. In the attacks by the gang members, scores of defenseless citizens were killed and motorcycles numbering over six and a Vigilante Group Pick-up Van set ablaze. The notorious street criminal gang leader is presently cooling his head in the hands of the intelligence establishment.
While strongly condemning in totality the killing of the Northern Muslim mother and her children, Intersociety also finds it pertinent to make this detailed clarification on the real group identity of those that masterminded the dastardly act so as not only to set the record straight but also to register its displeasure over the deliberate reportorial misrepresentation of facts occasioned by state censorship on media and stifling of democratic civil space which have robbed many of state and independently owned media organizations of their investigative competence and verification capacity. These have also provided a field day for alarmist and divisive social groups to rush to the media with unguarded, provocative, inciting, threatening and vengeful statements. This is more so when the same alarmist social groups keep mum and turn blind eyes when members of other ethnic nationalities and religions especially Igbo Christians and non Igbo Christians and their properties are subjected to wanton destruction by Muslin fanatics-thereby making it to look as if Muslim lives are sacred and worth preservation while lives of others especially the Igbo citizens are worth being spilled or destroyed.
Abduction And Beheading Of Hon Okey Okoye Likely The Handiwork Of Hired Counterfeiters
The Anambra House of Assembly member was trailed from Awka and chased after until his car was blocked. He was abducted along with his Campaign Officer (Cyril); leaving behind the third person. His official car was also abandoned on the spot. That was on 15th May 2022 and he was later tracked and traced to an Unubi communal forest located in Nnewi South Local Government Area from where he was beheaded afterwards with his body decapitated and dumped in different locations. It must be recalled that it was mentioned in Intersociety's report in March 2022 about the tracking by an undercover agent of a group of fiercely looking armed men in a brown new Coaster Bus branded "Izzi Youth Vanguard" along Obeledu-Oraeri-Igboukwu Road heading to an Anambra Forest Camp.
Further circumstantial investigative findings indicated that the group may most likely be among the imported 'fifth columnist armed counterfeiters' who are likely to have settled in one of the communal bushes/forests at Unubi. The counterfeiters are likely to have been politically hired to abduct and slay the lawmaker. This is more so when the lawmaker was independently disclosed to have been under intense pressure not to go for second tenure as a legislator representing his area which he bluntly refused. This was said to be from the point of view of zoning. His beheading, slaying and decapitation took place even after his family was said to have paid millions in ransom. Intersociety hereby condemns in strongest term his abduction, disappearance and beheading. The ordeal that befell him was most likely to be politically conceived and ill-motivated.
So Far So Good For New Anambra DSS Director (Enoch Pawa)
Investigations into the killing of the Northern Muslim mother and her children and beheading of the lawmaker and circumstances of the attacks on them (collaterally reprisal) have yielded some commendable results. Pieces of intelligence gathered so far concerning their killers or slayers are true reflection of professionalism and in line with our persistent insistence on application or use of credible intelligence in place of bias and false intelligence. While the new Anambra DSS Boss deserves our commendation for feats recorded so far in the two cited dastardly acts, Intersociety strongly cautions his Directorate not to adulterate or counterfeit the gathered intelligence and findings especially when being publicly disclosed or administratively archived. DSS under him must also diversify their intelligence gathering network and stop focusing their violent criminality hunts wholly on "ESN/IPOB". Our special commendation also goes to friendly proactive civilian undercover agents for special job well done. It must be remembered that similar state of insecurity as being witnessed today in the State was the case in 2006 when various street criminal gangs perpetrated sundry violent crimes ranging from abduction and ransom to armed robbery using the name of "MASSOB". It took then Gov Peter Obi and security agencies and their high commands to apply or use effective and uncorrupted intelligence and law enforcement to deal with the situation.
Further, there is need for DSS and other security agencies to gather and work with correct intelligence and avoid misinformation and mistaken identity such as the last week's Monday (16TH May 2022) late night (2am) invasion of a three-bedroom flat apartment along Onumonu Street in Awada, near Onitsha during which an innocent man and his infant children escaped being shot dead at sleep. A combined team of navy and DSS personnel numbering dozens with four machine gun carrying Vans, computers, climbing ladders and so on had invaded the place and pulled down all the entrance and exit doors and met the innocent father cuddling his infant children ready to be killed. The security personnel after ransacking his abode and mobile phones discovered that they had acted on wrong information and mistaken identity; claiming that "they are looking for an ESN Commander". The victim later turned out to be a printing press operator; forcing the invading security operatives to apologize to him and jump down and leave the scene.
Therefore, having elaborated the true picture of what led to killing of the defenseless Northerners and group identity of those that killed them, it is also pertinent to disclose that the intelligence community or State DSS Directorate has made useful inroads regarding the location and group identity of the abductors and slayers of the Isuofia born lawmaker. Apart from tracking and locating the Unubi communal forest hideout of the abductors of the lawmaker, legitimate 'soft targets' are also in the custody of the State DSS. The activities of community vigilante groups and their key members must also be thoroughly checkmated. Apart from some of them engaging in high profile violent crimes above highlighted, in collaboration with counterfeiters and street criminal gangs, those criminal vigilantes have also been reported to be involved in identifying fresh communal locations including bushes and forests for the counterfeiters and their financiers.
For: Intersociety
Emeka Umeagbalasi (Criminologist)
Barr Obianuju Joy Igboeli
Barr Chidimma Evangeline Udegbunam
Contacts:
Phone/WhatsApp: +2348174090052
Email: info@intersociety-ng.org, Website: https://intersociety-ng.org