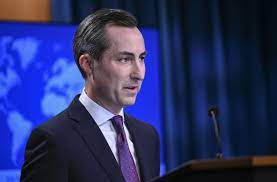 The new United States Ambassador to Niger, Kathleen Fitzgibbons, on Saturday, arrived capital, Niamey.
However, Fitzgibbons, will not formally present her credentials due to the "current political crisis," the U.S. State Department announced.
The military junta led by General Abdourahamane Tchiani ousted  President Mohamed Bazoum on July 26 and bluffed calls from the United Nations, African Union,  ECOWAS, and others to reinstate him.
Rueter quoted the US State Department spokesman Matthew Miller said in a statement as saying  Fitzgibbons' arrival in Niger "does not reflect a change in our policy position but responds to the need for senior leadership of our mission at a challenging time.
"Fitzgibbons' diplomatic focus will be to advocate for a diplomatic solution that preserves the constitutional order in Niger and for the immediate release of President Bazoum and his family, and all those unlawfully detained."
Fitzgibbons who arrived the Niamey on Saturday is a career diplomat who was confirmed in the post by the U.S. Senate in July, nearly a year after she was nominated.
Meanwhile, the military chiefs of the Economic Community of West African States on Friday agreed on an undisclosed "D-Day" for a possible military intervention to restore democracy in Niger if diplomatic efforts fail.
The West Africa's defence chiefs disclosed this after a two-day meeting in Accra, Ghana where they met to strategise plans on military intervention.