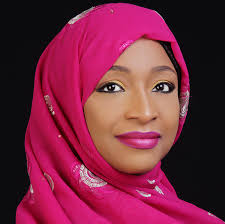 Hannatu Musawa, Minister of Art, Culture & Creative Economy, has broken her silence on the controversy of retaining office while serving as a member of the National Youth Service Corps (NYSC).
Human Rights Writers Association of Nigeria (HURIWA) had first drawn attention to the status of Musawa as a corps member.
Subsequently, Eddy Megwa, Director of Public Relations of the scheme, said Musawa was occupying the ministerial position in breach of the NYSC Act.
Megwa while Speaking with Daily Trust, explained that it was against the NYSC Act for any corps member to pick up any government appointment until the one-year service was over.
He said Mrs Musawa was originally mobilised in 2001 for the youth service to Ebonyi State where she had her orientation programme but later relocated to Kaduna State to continue the programme.
Megwa said it was when she got to Kaduna that she absconded and didn't complete the programme, adding that it was the scheme would look into the issue and take action where necessary.
But in a statement on Sunday, the minister gave the reason why she deferred service until 2023.
She also said she was posted to Akwa Ibom as against Ebonyi which the NYSC spokesman mentioned.
"I will like to state clearly that contrary to wrong insinuations and false assumptions in a section of the mainstream media and social media where false accusations have been made, there is no breach of any law or constitution of the Federal Republic of Nigeria as amended regarding my current position as a Minister and status as serving Corp member."
"It must be said that there is no law of Nigeria or any part of the our constitution and NYSC Act that states that a serving Corp member can not be appointed by the President of Nigeria or any other appointing authority into political positions. Equally, no part of our existing laws and NYSC Act says that a corps member must finish service before he/she can be appointed into political office.
There is no legal and constitutional limitations whatsoever. I have not broken any law of Nigeria."