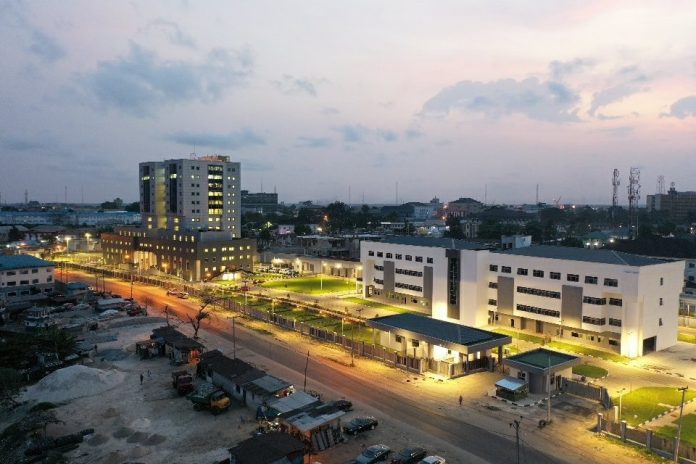 President Mohammadu Buhari has commissioned the completed NDDC headquarters in Port Harcourt, Rivers State, after corruption and neglect led to its abandonment for decades, Njenje Media News can report.
Njenje Media News recalls that until the completion of the project, the NDDC was paying 200 million naira annually for its rented headquarters.
In 1994, the Groundbreaking for the NDDC Headquarters was carried out – it was OMPADEC at the time.
Twenty six (26) years, and 17 CEOs later, it has fallen on President Buhari to COMPLETE and COMMISSION the #NDDCHQ building.
"Mr. President gave marching orders that this project must be completed… It is another milestone which evidences the commitment of Mr President to the development of Nigeria, particularly the Niger Delta region." — HM Godswill Akpabio.
"For 15 years the rented NDDC HQ was not connected to national grid, so they can give out contracts for diesel. That became a racket on its own." — HM Godswill Akpabio
Akpabio says when he visited the #NDDCHQ project site after he became Niger Delta Minister in 2019, he was told that no Minister – or even CEO/Administrator – has ever visited the site since 1996.
Some of federal HQ buildings which have been under construction over an average of 15 years which President Buhari is completing or has completed are:
1)17-storey NCDMB building, Bayelsa.
2) Nigeria Immigration service HQ
3) Department of petroleum resources HQ building Abuja.
4) EFCC HQ
5) NDDC HQ, Rivers.
A few people would argue that President Buhari and Vice President Yemi Osinbajo have not done well, but the majority of Nigerians appreciate and would not forget in a hurry the infrastructure revolution the duo have championed in our great nation.