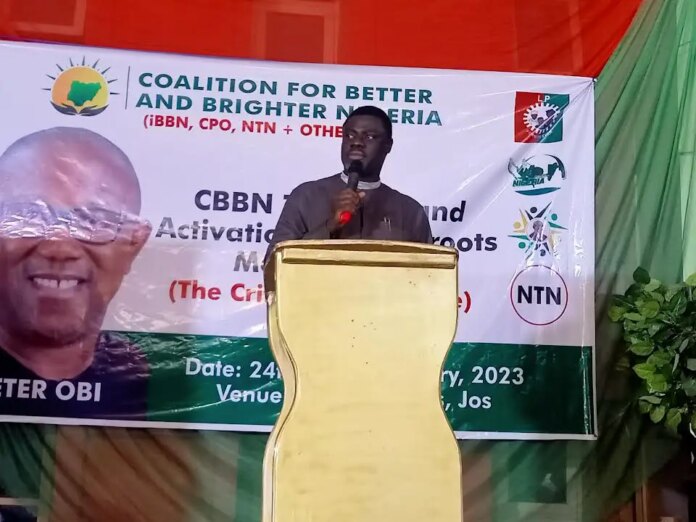 From Gyang Bere, Jos
The National President of Coalition for Better and Brighter Nigeria (CBBN), Prophet Isa El-Buba, has said he is working with his coordinators across the country to deliver 4 million votes to the presidential candidate of the Labour Party, Mr Peter Obi, during the February 25 Presidential elections.
He noted that some of them are working for about 22 hours daily against all odds to ensure the actualisation of the new Nigeria with the Obi-Datti presidency.
Prophet El-Buba disclosed this in Jos on Wednesday during a two-day training and activation of grassroots mobilisation retreat "The critical final phase", with attendance from the 36 states, held at EBUMI, Jos, Plateau State.
He encouraged Nigerians to work faithfully and make the desired sacrifice in the mission of recovering Nigeria from the possession of looters.
"It is time for us to get things right, we have gone through 62 years of pains, 62 years of clueless leadership, 62 years of people who are not supposed to be our leaders. We are here to strengthen our resolve to deliver 40 million votes to Obi-Datti on 25 February 2023."
El-Buba explained that there are a lot of mountains ahead of the 2023 elections and charged the coalition to work and crushed the Mountains of the Peoples Democratic Party (PDP) under Atiku Abubakar and the mountains of the All Progressives Congress (APC) under Sen. Asiwaju Bola Tinubu for the liberation of Nigeria.
"We all need to be prayerful, we know that without God we cannot succeed; With God on our side, success is on our side. There are people that are working to break into our ranks but we must make sure that we cling ourselves together so that nobody can penetrate us.
"If there is any time we need to fight and recover the soul of Nigeria it is now, we cannot be under Atiku or Tinubu in the next four years but we are happy that there is nothing working against Obi, he is the only alternative Nigeria has in 2023."
El-Buba said members of the coalition have received serious threats but encouraged them to remain focused, resolute and firm in their determination to usher in a new Nigeria.
He expressed gratitude to God for the mass movement and determination of Nigerians to have a new country where their future would be secured.
The post We'll give 40 million votes to Obi-Datti – Prophet El-Buba appeared first on The Sun Nigeria.