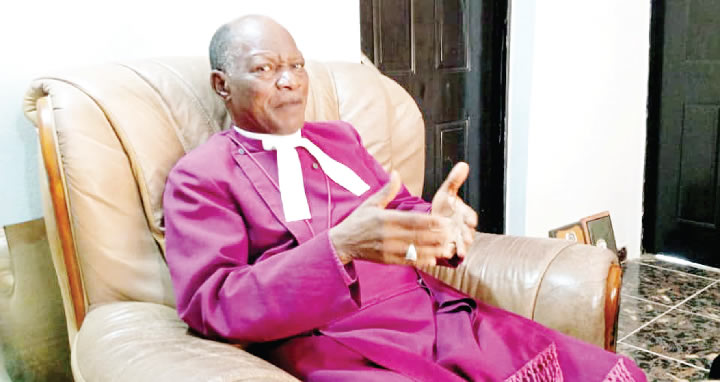 Eighty-year-old retired Anglican Bishop of Akure Diocese, Michael Ipinmoye, talks about his life, Nigeria among other issues with ABIODUN NEJO
Where were you born and who were your parents?
I am a native of Ijelu Ekiti in the Oye Local Government of Ekiti State. My parents were Abraham Ajigbotafe Ipinmoye, who died when I was going up to four years. My mother was Abigail Olumoye Ipinmoye, who died in 2000. My mother was my father and mother because she took up the responsibility and did what my father should have done for me.
How was life growing up without a father?
(Teary eyed) Life was not easy and not interesting for me. My father was a polygamist. I still grew up to know the wives and children. I had brothers and a sister, but I am the only one from my mother. I did not know my father before he died. I have never seen his picture before. But anytime I did something in my village, people would say 'omo baba re ni' (he is the son of his father). I grew up in that situation. I grew with it with the mentorship of my mother.
Which schools did you attend?
I gained admission into Christ's School, Ado Ekiti in 1957 and also Aquinas College, Akure, same year, but I had no money to go, so it was decided I go to Modern School, which was less. But again, my mother could not afford the money to see me through school and I failed my modern school examination. It pained my mother especially because out of every other member of the group from my village that went to Ikole for the modern school education, I was the only one who failed. When I went to check my result and I discovered that I failed, my mother started to cry because she owed some people. I consoled my mother not to cry. I assured her that, "where all those people (who passed) get to in life, if you give me peace of mind, I will get there and go beyond them.'' She wiped her tears and to the glory of God, nobody can say who or where Michael Ipinmoye is in my village. If you ask five people after me, four and half will say 'that is his house.' Life was not easy with me, it was not at all, but determination determines destiny. If you have a focus and you believe in God and you focus on Him, He will take you to places.
After you failed the modern school examination, how did you put yourself together to forge ahead?
My childhood ambition was to meet up with those people who passed the examination. When you passed then, your salary would be six pounds, eight shillings and six pence. I said I would want to meet them. Then, I was taken to the farm as a farm boy, but my mother said this boy would not make any headway there, so I had to return to school. She sent me to her brother in Jebba in 1957. The uncle tried every means to see that I returned to school but all failed. I had a half-brother, Venerable Ipinmoye, he is late now. He was in Isoyin in Ijebu Ode, he asked me to go and stay with his wife who had just been delivered of a baby. I was there when a message came from Ijelu Ekiti that our church needed me because I was a signatory to the church account as young as I was then. I packed my things and returned to Ijelu.
The Baba Egbe of our church said I should go and greet our church District Council Chairman, Rev. Robert Osinsanwo. In those days, when elderly people sent one on an errand, one cannot say no. It was an abomination in Ekiti to say no to an elderly person. The following day, I went there, met the man and told him that Baba Egbe asked me to come to greet him. He asked me to sit down. The man asked me where I felt I could live between Osin Ekiti and Itapaji Ekiti. I said Osin would be better for me if I were to choose one. He asked me why. I had considered that I could trek from Osin to Ijelu without stress but for Itapaji, I would have to walk a long distance in the bush. I considered that a dangerous one. He said 'okay, tomorrow, February 14, 1965, go and conduct a service for them in St Andrews Anglican Church, Osin Ekiti. That was how I started ministry. I have worked for the Church of Nigeria for 58 years.
So you didn't attend a school of theology?
No. They called us church agents then. It is after one has passed the exam to the theology school or seminary that one can go. So, with Modern School failed, I was given employment as a church agent. But in 1967, I passed the exam to Vining Christian Leadership Centre, Akure, I left the centre in 1970. At Vining, we were trained to be catechists and then to be academicians. They taught us and introduced us to intense reading. At Vining, I passed the London GCE, which I registered for in 1974. I went to Emmanuel College of Theology and left there in 1977. In 1985 or thereabout, at age 45, I went to the University of Ilorin. I left there in 1988. Since then, I have been around.
How do you feel at 80?
I feel great, I feel fulfilled, I feel the faithfulness of God and I have always enjoyed His grace. I am happy.
What are you happy for?
I am happy about many things. One, that I am still alive. I know many of my peers whose families will point to their burial places. I know there are some of my mates who cannot lift themselves even if they are alive. Most especially, I am happy seeing my grandchildren, playing with them– pulling me here and there. I am happy at 80, enjoying God's grace.
As a retired bishop, what are your thoughts on Nigeria?
My thinking about Nigeria is that one day, God will intervene in its affairs. I was born and raised in Ekiti State before I left about 58 years ago for church ministry. But the way things are now is scary. I want to believe we caused it. God blessed us so much in Nigeria more than many other countries, but because of self-centeredness, we pushed aside God's mercy and grace for us. Politically, if we want to be the type of Nigeria God wants us to be, we have to reverse. We have to take 10 steps backwards to catch up with the grace and blessing of God for us.
Let me start with the National Assembly members, I do not know how much they earn per month! We must make the legislature something that people will do voluntarily, so that the members will earn only allowances, like a part-time thing. We waste money on things we should not waste money on. One of such things in this country is politics. How much do they earn at the House of Representatives? How much do those at the Senate earn per month? I don't know, I have not been there. I am not one of them but I heard that what they call a wardrobe allowance alone for each member is more than what many workers put together can get. What are they using that type of money for? God loves us so much, but again, we have taken God's grace for granted.
Many eminent Nigerians celebrated you on your birthday. How did you feel listening to their tributes?
During the thanksgiving service, the Lord Bishop of Ekiti said that Ekiti State Governor, Biodun Oyebanji; a former governor of Ondo State, Dr Olusegun Mimiko; and a former governor of Ekiti State, Chief Segun Oni, should say something in the church. They paid tributes; neither my wife nor I could remember what Governor Oyebanji said about me. He said there was a time he came to our house with the then Governor Adeniyi Adebayo when he was PA or whatever to the former governor and that he was hungry when they got there. He said that we prepared pounded yam for them as an Ekiti person and they ate in our house. He said that he who was the PA that we gave food to in Akure that day is the governor of today to the glory of God. It touched me emotionally. If we did not do that at the time, he would not have said it. But he would have had it in mind that 'is this a man of God?' 'Are you sure this is a man of God – we got to his house, he could not give us even water to drink? It touched me.
What lesson did you learn through the event?
That we should see ourselves as our brothers' keepers. You don't have anything. Whatever you have was given to you by God, eat from it, give to the less-privileged ones, give to those who do not have, go to your villages and treat them well there. Go there to relieve the tension of the villagers. Nobody can satisfy everybody, but let them feel your impact.
How do you feel about your retirement 10 years ago?
I feel great, fulfilled and happy. Though I retired 10 years ago after serving for 48 years, we serve till death.
Kindly share some fond memories of your ministerial experience.
My ministerial experience has been good and bad. Let me start with the bad side: As a pastor, pastor is a general name now, during our days, when you have a parish, you are the pastor of the parish. What a pastor meant then was that your focus is on the parish until you are moved from there. What broke my heart most then was when I received bad news about my members. It would be as if the incident happened to me. The most difficult aspect of it was when I was asked to break the news – his child died, he had an accident – I am an emotional person and I cried. When conducting a funeral service for a young person, they said 'lower it (the body into grave).
The parents are my members. I know them and my mind would say 'this thing you are lowering, what will be in the mind of the parents,' then I would start to cry. These are bad experiences I had. My good ones – When you are good and you want to show God that you are good, when you come to tell me your child wants to marry, your child passed exams, your child is travelling abroad, your child has a job, such news gladdens my heart so much. I soaked myself into the ministry. With apology to my family (emphasis), I concentrated on my members more than my family when I was in service. Church members saw me more than my own family members.
How did you feel as a cleric when Nigerian leaders refused to obey admonitions from your sermons?
I felt bad though it may be one in five instances when they would not follow. I am not talking about the Federal Government, but in the states where I worked, the governors knew me for that – that I would not deceive them and would speak the truth from the Bible. They knew I would not accept bad gifts that would seal my mouth.
If you were at my 80th thanksgiving service, you would see that former Ondo State Governor, Olusegun Mimiko, said that when we were together, they respected and feared me. Again, anytime I travelled and I saw something good, I would return home and sell the idea to the governors – the late Ondo State Governor, Dr Olusegun Agagu; or Mimiko; the late Governor Adebayo Adefarati and the late military governor, Navy Captain Anthony Onyearugbulem. There was a time he quarrelled with me and I told him he was in the state to help us and not to lord it over us. Then I was provost. I called him to my office. That is my life.
What is your view on the hardship Nigerians suffered due to the Central Bank of Nigeria's naira redesign?
This cashless policy stress is a punishment on the citizens. Nothing calls for it at all because there is nothing God should do for us that He has not done. But again, politically, they want to use their ego. What we have here is egocentrism. Whatever I say, I have said it and nobody can query my authority. That is the problem the country is having. Nigerians insulted the CBN Governor, Godwin Emefiele, but he was carrying out instructions.
When the President, (Major General) Muhammadu Buhari (retd), was selected and his slogan was 'change,' I told my wife and said, 'this man did not define this change! Change from what to what? Is it change from what we are now to a better tomorrow or to bring us steps back?'' We now see the meaning of his change. The country is good, our government is bad. Our government is bad because the people there are bad, almost all of them. The few that are good there, their voices cannot anywhere.
There are agitations for secession by some ethnic groups and you once advocated that corps members should be posted to serve in their regions. What do you think is the way forward for the country?
The way forward! I said this in 1982 or so, when I was the Chaplain of St James Cathedral, Oke Bola, Ibadan, Oyo State, in one of my sermons. Nigeria was good then. I said this country was too large for an individual to control. I said what I think should be done was to say that North should be up there, East be there, West be here and let us have a weak centre, then the three independent regions should feed whoever is there at the centre under whichever title and Nigeria would be better. I am still on that. Let people go. You can speak to me in the language I understand. You speak to me in Yoruba and when you are angry with me, you may still be laughing as a Yoruba man, but I will know that you are angry with me. The Igbo have their own ways and the northerners have their own ways. We are not one country. Let people go peacefully. If there is anything amiss, then the central will correct. That may settle our problem. I am not instigating but that is my mind.
How do you think Nigeria can tackle unemployment and poverty?
There is no poverty in Nigeria as far as I am concerned. Let the young people think about what they can do to make their lives better. My wife has a tailor, any time she brings her dresses and I ask how much the lady takes from her and she tells me, I exclaim. The tailor is a graduate from the Ekiti State University. I think that is better for her. Let our young people think of how their lives will be better, not depending on what the government will do for them. There was a time during the time of Governor Kayode Fayemi, I told the Ekiti State Government there is much bush in Itapaji, Iyemero, Oke Ako and so on. I said let people go there and know what can be grown there and spend some money to help them. Go to Igbemo, let them do rice farming, go to where they can grow palm trees, cocoa etc. I have three palm trees in my compound and in my village at Ijelu Ekiti. I have about 40. Do you know that for some years, I have not bought palm oil? When did I plant them? Growing unkempt hair and becoming okada riders (commercial motorcyclists) will not fetch the young people anything, but early death because of the associated hazards. Let them find something to do themselves. Let them employ themselves and stop riding okada.
The February 25, 2023, presidential election was won by Asiwaju Bola Tinubu. But the candidates of the Labour Party and the Peoples Democratic Party, Peter Obi and Atku Abubakar, respectively are challenging the result in court. What is your position on the issue?
Elections were held and it was announced that the All Progressives Congress presidential candidate, Bola Tinubu, was elected president of the country. What Nigerians should do is to pray for the success of his administration when he assumes office.
Again, when he is sworn in, he should not go to Aso Rock as the president of the APC but as president of Nigeria. If I am made a president or a governor of a state, immediately I am sworn in, I will forget my political party and relate with everybody the way I should. You who know how to manage farming, you belong to party A. As governor or president in party B, I will look for you to say come and help my state or the country. If we still behave based on partisan politics in this country, we are not going anywhere.
The general elections drew surprises with politicians losing their strongholds and some governors who contested the Senate lost. What lessons do you think politicians should learn from the outcome?
If you are a governor of a state for four years and you earned what you are earning and as well based on your allowances, why do you need to go to the Senate again? Is it to teach them the wrong that you did in your state and infuse that into the country? There is no need. When you serve in a place and you are done, go to your house. If you are a medical doctor, return to your clinic, if you are a lawyer, go back to your chambers and allow younger people to do it. That is still a problem in Nigeria – how many youths are there now? I understand that there are some people who have been in the Senate or House of Representatives for many years and still wanting to return there at what age to do what?
Do you think there is hope in Nigeria considering the way things are?
As I said earlier, Nigerians should think of how to make the country easy to govern. Let Yoruba be here, let Igbo be there, let the Hausas be there and let us have a weak centre. The three regions will feed the centre there.
Again, let the humongous amount of money being paid to members of the Senate and House of Representatives be cut down. When it is cut down, whatever they get from there, let them put together and let the populace feel a little bit relaxed. There is tension out there, people are crying and weeping. They are hungry and angry.
A few days back, I sent somebody to a bank. He was given a token number 310 in the queue. When would it get to his turn? How much did I even want to collect? This country needs to be reset and fixed well.
Also, let us vote as political parties, but when you get to office, see everybody, not APC, PDP or whatever. When you are making appointments, don't look for just anybody from your party, go for competence, people who can do it from anywhere but Nigerians. If we do that for three, five years, people will be coming from other countries to learn what we do in this country.
How did you meet your wife and what attracted you to her?
I left Vining Christian Leadership Centre where catechists are trained and I was posted to Ijero Archdeaconry. The archdeacon of Ijero then, Ven. Alegbeleye, posted me to Ilukuno, which is about three miles, to be the catechist there. I was the first trained catechist to work in that place. Don't forget that I earned a GCE which was scarce then. My wife was a member of my choir among others. They were many. That was not where I met her. Before I proposed to her, I had watched how she was obedient to her parents. I had seen how she would go out early in the morning to fetch water for the parents before going to school in Ipoti. I saw some virtues in her. Again, I told you that I am the only one from my mother and my mother wanted me to marry and have children. I proposed to her. Ladies would not say yes at first, but the 'no' will be weak and thin. The next time I went to their house, incidentally and luckily for me, the parents were members of my church, so I would hide under that to visit the parents. And after, she would see me off. She would visit me in my mission house which was not up to two minutes' walk. But finally, we agreed to marry each other. We got married in 1973, 50 years ago.
What is your advice to young and intending couples considering the alarming divorce rate?
My advice for them will be to study whoever they want to marry and they should not rush into marriage because it is dangerous to do so. They should depend on God to look for whoever will be their husband or wife. The type of relationship many of them are having now, nothing good can come out of it. They need to study each other well and pray. As individuals, they should pray well for God to choose for them.
How was life during your time and now?
Kilometres apart. Then, after God who has every control over us, it's our parents. Our parents were our mini-god. We were not allowed to leave our parents' home until a particular time. We have to try and ask God to take Nigeria back to what it used to be when we were listening to our parents like listening to God's voice. If they say, 'Don't go there,' we would not go. 'Don't do that,' we would not do it and I believe that is good for us today.
What do your children do and is any of them following in your footsteps?
I have two boys; one is a medical doctor and the other is an electrical electronics engineer. We call the engineer, who is younger , a family chaplain. There was a time I felt his pulse. I asked whether he would like to come to the church ministry, he said, 'daddy, let me be serving my God the way I am serving now, I don't think I can come to the ministry.' None of them is in the ministry.
You are retired but still preach. How do you relax?
I don't do anything. When I wake up, I have a cup of tea, do devotion, either lie down or sit with my wife in the sitting room and then, we talk about our past and pray together for our future.
What will you attribute your long life to?
God's grace. I enjoy God's grace so much.
Did you ever think you will live this long?
That is God's doing and God's plan for me and may I tell you, in all honour and glory to God that since I grew up to know myself, I have never been admitted in hospital. I don't have any peculiar ailments. I am neither diabetic nor hypertensive. I am free.
When is your happiest moment?
When I see my grandchildren.
What kind of music do you listen to?
Church music with good tunes.
What is your favourite food?
I am an Ekiti person, it is pounded yam. I eat pounded yam. But when I travel out, my children know what to prepare for me. I am not a heavy eater. It was my mother who raised me and there was little she could do, so anything she gave me, I would eat. But there was a strong warning that I should not go to anybody's house to eat. She told me that, "they would say it is because your father died when you were young that you are now going about eating in people's houses.'' I had an oversize garment of contentment from home.
What would you like to be remembered for?
What faces you from me will be different from what faces another person from me. But that I worked for the Church of Nigeria for 58 years and those people I touched that my scar of goodness is there upon them. There are some families in Akure Diocese that cannot forget me forever. I was emotionally touched at the 80th birthday thanksgiving service, when they brought some young ladies and young men and they said, ''look at part of your work.''
Do you have any regrets in life?
I don't know whether I should call it regrets, but it pains me each time I remember that I did not know my father.
I did not see his photograph, nothing at all. All I hear from people is that I am the one that represents my father the most among other children he had. It pains me, meaning that even if we get to heaven, we may not know each other. It pains me.