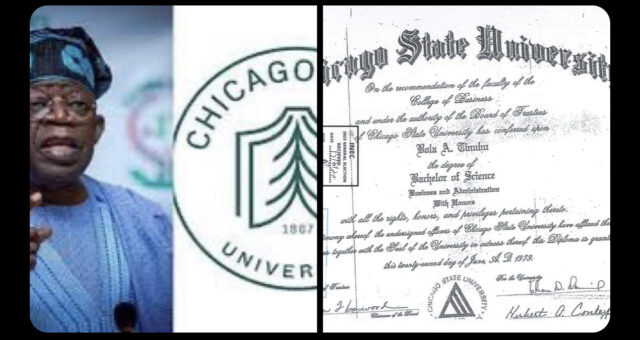 Breaking News: Chicago State University Disowns Tinubu's Certificate He Submitted to INEC
Today, officials of the Chicago State University, during a deposition under oath, have disowned the certificate Bola Tinubu submitted to INEC to contest the 2023 Presidential election.
The officials denied the stamp and other items on the certificate and said they do not know where he got the certificate from.
This deposition was part of an ongoing court case that was filed against Mr. Tinubu for presenting a forged university certificate to INEC.
The deposition has been a major shock to Mr. Tinubu, who has always been vocal about his education background and his certificate from Chicago State University.
The deposition has also been a shock to many of Mr. Tinubu's supporters, who have always had confidence in his credentials.
The deposition comes after a team of investigators from the Chicago State University visited Nigeria to verify the authenticity of the certificate. The team conducted a thorough investigation and concluded that the certificate was not issued by the University