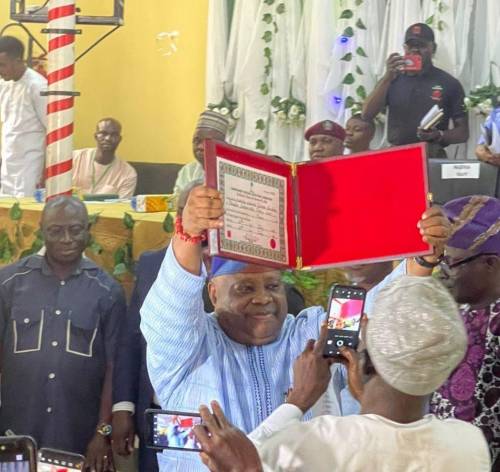 The Supreme Court has declared Ademola Adeleke of the Peoples Democratic Party (PDP) the duly elected governor of Osun State.
The apex court in its judgment struck out the appeal by Oyetola against the judgment of the Court of Appeal, which affirmed Adeleke as winner of the July 16, 2022, governorship on May 9.
The Supreme Court established that Oyetola failed to prove over-voting in his Appeal, as the BVAS machines are the basis for proving over-voting.
The Court also held that Register of Voters is very cardinal to the process of accreditation and as such, over-voting cannot be proved without it.
The Supreme Court held that Principal Witness 1 presented by the appellants as an expert relied on hearsay evidence, and his opinion is therefore not admissible. Thus, the appellants did not discharge the burden of proof placed on them by the law.
The Court also held that Adeleke's qualification is settled and no case of forgery is established against him.
The Supreme Court has therefore dismissed the Appeal of the APC and Oyetola for lack of merit.
The five member panel led by Justice John Okoro hereby declared Ademola Adeleke duly elected.