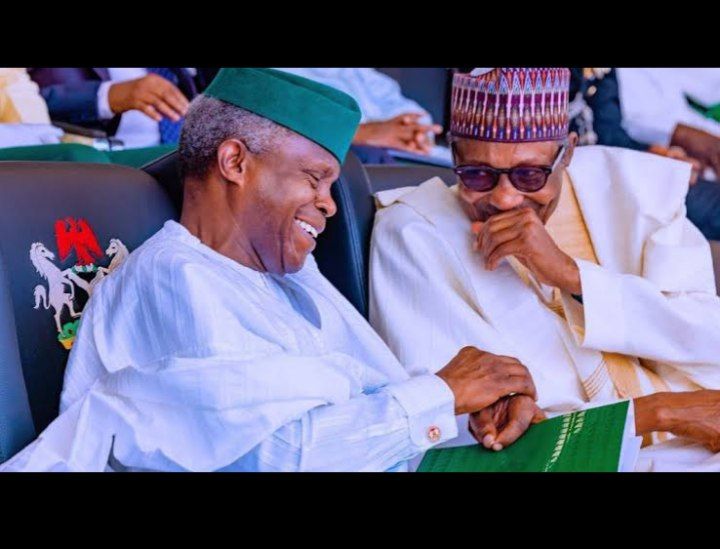 Exit Of The Most Atrocious Civilian Government In Nigeria: Time For Mass Atrocities' Accountability
…served/serving police and military officers from Lt Cols/CSPs since 2015 are serial rights abusers/violators
Onitsha, Eastern Nigeria
Tuesday, 30th May 2023
Buhari-Osinbajo Government Is The Most Atrocious Civilian Administration In Nigeria
The International Society for Civil Liberties and Rule of Law (Intersociety) wishes to state that it is most likely correct to say that the out-gone eight years of the central civilian administration of Retired Major General Muhammad Buhari (as he then was) and Prof Yemi Osinbajo (May 29, 2015-May 29, 2023) is the most atrocious civilian administration ever existed in Nigeria particularly since May 29, 1999 when the country returned to the civil rule. At the sub-national or State level, the out-gone Government of Kaduna State under Nasiru el-Rufai and that of Rivers State under Nyesom Wike have been identified as most atrocious sub-national entity governments in Nigeria; followed by the out-gone sub-national Government of Ebonyi State under Engineer Dave Umahi who recently transmogrified himself into 'a Senator' through a brutally flawed election. The Jan 14, 2020 Supreme Court installed Government of Imo State under Hope Uzodinma is the most atrocious serving sub-national Government in Nigeria.
Similarly speaking, the July 2015-Nov 2023 composed Nigerian Armed Forces (Army, Navy, Air Force and Defense Headquarters), the Nigeria Police Force and its crack squads, the Directorate of State Security Services and the National Intelligence Agency have been identified as atrocious security establishments since 29th May 1999 as well as most ethno-religiously imbalanced, hijacked, radicalized, balkanized and professionally bastardized since the last two political dispensations of 1979-1983 and 1999-June 2015. The public establishments and their occupants above named have watched and refused to act or stop the grisly and egregious massacre of thousands of defenseless citizens and wanton destruction of tens of thousands of their properties by delegated armed state actors or armed non state actors in the past eight years or from 29th May 2015 to 29th May 2023.
Mass Atrocities Trademarked Buhari-Osinbajo Government's Grisly Rights Abuses
Perpetration and perpetuation of mass atrocities under the watch and full weight of the above named public establishments and their elected or appointed top occupants was the trademark of the above referenced atrocious central Government in the past eight years. Mass atrocities are simplified as 'large-scale and systematic violence against civilian populations and perpetration of other internationally prohibited acts or conducts such as unlawful imprisonment, unlawful killings, unlawful executions, abduction of slain victims' bodies, extrajudicial killings, sexual violence, persecution against an identifiable group on the grounds of tribe/ethnicity and religion, enforced disappearance of persons, torture and other inhumane acts of a similar character intentionally causing great suffering, or serious injury to body or to mental or physical health and acts of propagation and promotion of radical religion or ethnicity, etc. The sum-total of the above amounts to crimes against humanity, war crimes, ethnic and religious cleansing, mass murders and 'domicide' or systematic and indiscriminate burning or destruction of defenseless civilian homes and sacred places of worship and their symbols.
Buhari Ran 'Government For The Destruction Of Easterners And Christians'
The exited central Government of Retired Major General Muhammad Buhari (as he then was) and Prof Yemi Osinbajo is atrociously found to have run "Government for the Destruction of Easterners and Christians" during which Government energies and resources especially borrowed funds were channeled towards systematic annihilation of Christians and defenseless citizens of Old Eastern Nigeria. Hundreds of millions of dollars was also widely believed by pundits and critics to have been squandered by the Government in running international propagandas (cultural violence) against defenseless citizens of Eastern Nigeria particularly members of the Igbo Ethnic Nationality; a part of Government's policy of class criminalization, false labeling, stigmatization and ethnic profiling.
As if that was not enough, the Buhari-Osinbajo Government also elevated Fulani Herdsmen and their ancient North-South grazing route system and had it transformed into State Jihadism project; modeling it after Sudan's Janjaweed radical Islamism and its black Sudanese annihilation project; transforming it into Fulani Jihadism project including intelligence gathering, violent attacks, occupation and conversion. As a result, tens of thousands of defenseless Christians were massacred in eight years and tens of thousands of churches and other Christian knowledge centers burned down or wantonly destroyed. To ensure the above, too, commanders of the Nigerian security establishments were heavily and presidentially compromised and handed down "esprit de jihad' code of operation.
Time For Mass Atrocities' Accountability
There are not less than 50 major state actor conduct atrocities in Nigeria under the eight atrocious and tortuous years of Retired Major General Muhammad Buhari (as he then was) and Prof Yemi Osinbajo central Government of Nigeria. There were also existential threats and attacks directly unleashed on indigenous members of the Nigerian ethnic nationalities and their properties especially the Judeo-Christian-Traditionalist citizens of Old Eastern Nigeria and their counterparts in Benue, Plateau, Nassarawa, Kogi, Yobe, Kebbi, Gombe, Taraba, Adamawa, Borno, Niger and Southern Kaduna as well as some Christian parts of the South-West. The attacks included air-bombing and mass shooting and killing of defenseless civilians in Christian communities of Kala-Balge in Borno, Numan in Adamawa, Munya and Shiroro in Niger, Southern Kaduna in Kaduna, Jos North and Jos South in Plateau, indigenous Christian/Muslim communities in Kebbi and different parts of Anambra, Ebonyi, Enugu, Abia, Imo and Akwa Ibom States (targeting Christians, Judaists and Traditionalists) as well as mass killing of Shiite Muslims in Zaria in Kaduna State and FCT.
Apart from Government's incessant attacks using barbarous security forces and their deadly force, the Jihadist Fulani Herdsmen were also clandestinely mobilized by the out-gone central Government and armed with automatic rifles to wantonly attack, abduct, kill, maim and destroy lives and properties belonging to the above named defenseless ethnic nationalities who are targeted for not being Muslims or refusing to be converted. Human rights abuses and violations unleashed on individual citizens or group of citizens were also in 'industrial scale' and amounted to crimes against humanity and other internationally prohibited acts or conducts. It is therefore time for accountability for the variously documented mass atrocities. All eyes are now on the International Criminal Court (ICC), which had severally announced "the opening of investigations on Nigeria for possible crimes against humanity or war crimes since 18th Nov 2010". This is more so when Nigeria has failed woefully to adhere strictly to the "Principle of Complementarity and Zero Impunity" by demonstrating its "inability and unwillingness" to act domestically to fish out the perpetrators and bring them to account using its domestic justice frameworks.
It is also time for investigative and indictable intervention in Nigeria by the United Nations' High Commissioner for Human Rights' Special Rapporteurs on Summary, Arbitrary and Extrajudicial Executions or Killings; Arbitrary Detention; Torture and other Inhuman or Degrading Treatments or Punishments; Environment and Human Rights; Involuntary or Enforced Disappearances; and on the Right to Adequate Housing (to investigate systematic and arbitrary destruction or burning down of civilian houses or homes). This well grounded and timely international call is for purpose of unmasking the identities of those that killed, abducted, disappeared, arbitrarily arrested/detained and tortured; or burned down or wantonly destroyed homes and other properties; and those that aided, abetted and omitted to act to stop the killings, abductions, disappearances and torture; as well as identities of those killed, abducted, tortured or disappeared including slain bodies disappeared un-traced.
Buhari's Atrocious Government Shielded And Emboldened Perpetrators Of Mass Atrocities
It is on record that till date, no single senior security officer has been apprehended and severely punished for his or her grisly and egregiously involvement or role in the large-scale violations or abuses of human rights in Nigeria or any part thereof since July 2015. The out-gone Government of Buhari-Osinbajo also earned notoriety in shielding the perpetrators and emboldening them to perpetrate more with impunity leading to unchecked cases of 'repeat-perpetrations or offenses'.
Apart from the security forces massacring defenseless citizens in their large numbers and wantonly burning down or destroying their properties with impunity and recklessness, they were also given 'presidential waiver to kill and destroy at will'. The above was worsened by controversies surrounding the mental and physical fitness or condition of the person of former Major General Buhari as Nigeria's President especially back in 2017. Since then or before then, the Nigerian security forces and their commanders have become reckless and unchecked by killing, abducting, disappearing, torturing, detaining beyond the law, bombing and burning or destroying at will; using "order from above or Commander-in-Chief". Hundreds of millions of dollars from borrowed funds had also been internationally squandered in blocking international investigations and erasing traces of culpability. This is to the extent that a mole was installed in 2018-2021 as "ICC President".
Public Institutions And Human Rights Practices Now Repressive Instruments
Nothing good was left in Nigeria under Buhari-Osinbajo atrocious Government. This is to the extent that all Government or public institutions established for the advancement of Nigeria's democracy and driving of its process including security, policing, defense, paramilitary and justice establishments and their oversight agencies have become instruments for promoting and advancing repressive Government policies and conducts. Such bodies include those listed under Constitutional Sections 4 (Legislature), 5 (executive), 6 (judiciary), 7 (LGAs), 8 (State creation) and 153 (CCB, Council of State, FCC, FCSC, FJSC, INEC, NDC, NEC, NJC, NPC, NSC, Nigeria Police Council, PSC and RMAFC), 214 (Nigeria Police Force) and 217 (Nigerian Armed Forces) as well as DSS, NIA and Paramilitaries; have been handed down to conformist Government apologists and enablers of dictatorship and repression. Human Rights practices in Nigeria under Buhari-Osinbajo have also been defaced, degraded and bastardized, to the extent that most of the country's leading rights movements have fizzled out or compromised or transformed into "Human Rights Nigeria Limited or PLC"; with 'not less than 600 Government affiliated NGOs taking the center stage and counterfeiting the core human rights values and practices.
Served/Serving Security Officers From Lt Cols/CSPs Since 2015 Are Serial Rights Abusers
Judging from our several investigations and findings since 2015, most, if not all the served and serving senior police and military officers and their equivalents in the interior or external intelligence community in Nigeria from July 2015 to Nov 2023, covering those from the ranks of Army's Lieutenant Colonels (Lt Cols)/Chief Superintendents of Police(CSPs) to their respective establishments' attainable highest ranks and their equivalents in the Navy, Air Force and DSS/NIA have been identified as serial human rights abusers and violators deserving no international career and post career benefits including exchange programs, career or post career consultancies or contracts, fellowships, scholarships, holidays, granting of asylum, humanitarian or career service awards, academic awards or appointments, etc. It is also our finding that 14 out of every 15 of the above categorized senior security officers deployed in operations from July 2015 to May 2023/Nov 2023 directly or vicariously involved in serial human rights abuses and violations; with 15 out of 15 engaging in the use of torture or other degrading treatments or punishments to extract confessional statements. While many, if not most of them have been involved in disappearance of suspects from custody including killing them and disappearing their dead bodies to erase traces, most, if not all of them were aware of the heinous acts but declined to act to stop the same or fish out their subordinates involved. Most of them were also involved in class criminalization, false labeling, stigmatization and ethnic and religious profiling while the rest got aware but conspiratorially concealed the same by way of "esprit de corp."
Signed
For: International Society for Civil Liberties and Rule of Law (Intersociety)
Emeka Umeagbalasi, Board Chair
Chidinma Udegbunam, Esquire, Head of Publicity
Ositadinma Agu, Head of Int'l Contacts and Mobilization
Contacts:
WhatsApp/Mobile: +2348174090052
Email: info@intersociety-ng.org
Website: https://intersociety-ng.org