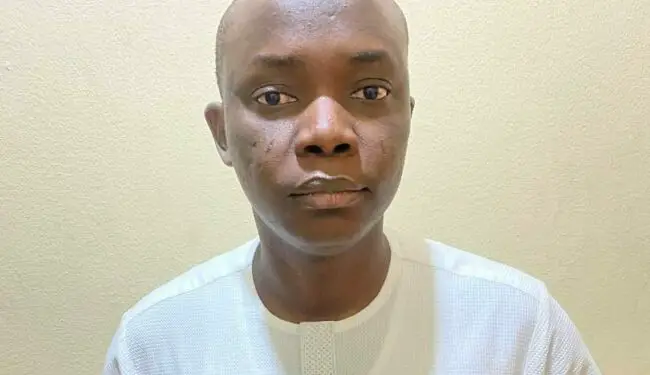 Justice Obiora Egwuatu of the Federal High Court sitting in Abuja, has adjourned ruling on the bail application filed by Ali Bello, nephew of the Kogi State Governor, Yahaya Bello, and four others in a N3 billion money laundering trial to Monday, February 20, 2023.
At the resumed proceedings on the case on Tuesday, February 14, defence counsel, Ahmed Raji, SAN, informed the court of two motions filed on February 7, 2023, seeking the withdrawal and replacement of the initial applications of January26, 2023 on behalf of the defendants.
In the supporting affidavits, Raji prayed the court to grant the first defendant and others bail "on the most liberal terms", stating that the defendants are law -abiding citizens.
"My lord, it has been more than a year since the EFCC has been investigating them and they were admitted to bail which they have not jumped, even once. In fact, the fourth defendant at a time, got his passport back and was permitted by the EFCC to travel to Mecca and he came back," he said.
Yahaya Bello's wife 'at large' as EFCC arraigns gov's nephew over 'N3bn fraud'
Ohinoyi accuses Yahaya Bello of impersonation, sidelining him
However, prosecution counsel, Kabiru Hussini, relying on a seven- paragraph counter affidavit, faulted Raji's claims. "My lord, our written addresses oppose the application for bail, because we believe that in the interest of this case, the defendants have every tendency to jump bail, because they have all the influence, resources and power to intimidate our witnesses and tamper with evidence in this case", he said.
Justice Egwuatu adjourned to February, 20 2023, for ruling on the bail application.
Bello and four others, were docked on Wednesday, February 8, 2023 on 18 count charges bordering on criminal misappropriation and money laundering to the tune of N3,081,804,654.00( Three Billion, Eighty One Million, Eight Hundred and Four Thousand, Six Hundred and Fifty Four Naira). The other four defendants are Abba Adauda, Yakubu Siyaka Adabenege, Iyada Sadat and Rashida Bello( at large).
Count one of the charge reads "That you, ALI BELLO, ABBA ADAUDU, YAKUBU SIYAKA ADABENEGE, IYADA SADAT, RASHIDA BELLO (at large) sometime in June, 2020 in Abuja within the jurisdiction of this Honourable Court procured E- Traders International Limited to retain the aggregate sum of N3,081,804,654.00 (Three Billion, Eighty One Million, Eight Hundred and Four Thousand, Six Hundred and Fifty Four Naira) which sum you reasonably ought to have known forms part of proceeds of unlawful activity to wit: criminal misappropriation, and you thereby committed an offence contrary to sections 18(a), 15(20)(d) of the Money Laundering Prohibition Act, 2011 as amended and punishable under section 15 (3) of the same Act".
Count 3 reads, "That you, ALI BELLO, ABBA ADAUDU, RASHIDA BELLO (at large) sometime in November, 2021 in Abuja within the jurisdiction of this Honorable Court procured E-Traders International Limited to transfer the aggregate sum of $570,330 (Five Hundred and Seventy Thousand, Three Hundred and Thirty United States Dollars) to account number no; 426-6644272 domiciled in TD Bank, United States of America, which sum you reasonably ought to have known forms part of proceeds of unlawful activity to with: criminal misappropriation, and you thereby committed an offence contrary to section 15(2)(d) of the Money Laundering Prohibition Act, 2011 as amended and punishable under section 15 (3) of the same Act".
Count 17 reads, "That you, ALI BELLO, ABBA ADAUDU, RASHIDA BELLO(at large) between 26th July, 2021-6th April, 2022 in Abuja within the jurisdiction of this Honourable Court procured E-Traders International Limited to remove from the jurisdiction of the Honourable Court to account no. 426-664-4272 domiciled in TD Bank, United States of America, the aggregate sum of $570,330 (Five Hundred and Seventy Thousand, Three Hundred and Thirty United States Dollars) which sum you reasonably ought to have known forms part of the proceeds of unlawful activity to wit; criminal misappropriation, and you thereby committed an offence contrary to section 15(2) ( c ) of the Money Laundering Prohibition Act, 2011 as amended and punishable under section 15 ( 3 )of the same Act."
Count 18 reads, "That you, ALI BELLO, ABBA ADAUDU, RASHIDA BELLO(at large) between 26th July 2021 -6th April, 2022 in Abuja within the jurisdiction of this Honourable Court procured E-Traders International Limited to remove from the jurisdiction of the Honourable Court to account no. 426-664-4272 domiciled in TD Bank, United States of America, the aggregate sum of $845,852.84 (Eight Hundred and Forty-five Thousand, Eight Hundred and Fifty-two United States Dollars) which sum you reasonably ought to have known forms part of the proceeds of unlawful activity to wit; criminal misappropriation, and you thereby committed an offence contrary to section 15(2)(c ) of the Money Laundering Prohibition Act, 2011 as amended and punishable under section 15 ( 3 ) of the same Act."