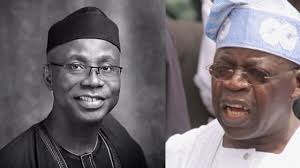 Fiery preacher and Lead Pastor of the now defunct Latter Rain Assembly, Pastor Tunde Bakare has in a new message called on those scheming against Former Lagos Governor, Mr Bola Tinubu to stop doing so.
In a video message to his congregation (Dominion Hall Citadel Global) and made available to Njenje Media News, the former running mate to President Buhari says some people are demonizing the APC National Leader because of his past and ancestry.
Pastor Tunde Bakare, who incidentally is interested in gunning for the Presidency, a rumoured ambition of Asiwaju Tinubu talked about many issues that many used to attack the Lagos strongman, the claims of sitting on Lagos Taxes and many more.
With references to Biblical instances, Pastor Bakare called on those fighting Tinubu to eat the humble pie and noted that fighting the APC leader over his presumed Iragbiji ancestry was mundane.
In his words;
"Accept your humble pie. Eat it. When you were sleeping, Asiwaju was working day and night. He secured Lagos. He secured Ogun. He secured Osun. He secured Ondo. He secured Edo, and you say he is nobody. You are ode (a fool). You think he laboured that much to say, 'Çome and take.' No, he is not a fool."
"Stop all this nonsense about ancestry. You will kill your heroes and those who can deliver you and nothing will happen. All of these sakabula leaders, they don't have machine guns. By sakabula, I mean dane guns. I am not a friend of anybody. Ojo o b'enikan sota, eni eji ri leji pa. (I am like the rain that has no enemy, thus drenching whoever it encounters.)".
Bakare posited that some Yoruba elders were planning a kind of alternative political re-engineering but said would not work without Tinubu's input. In his opinion, the former Governor of Lagos State's structure will swallow such because he had worked ahead.
Bakare continued, "Stop plotting, scheming against someone. He has his past, you have yours. Even Pope has a past. Don't let me expose your men of God o, because they all have a past. And before I expose them I should look inward too, because I have my past and you too do. If you have no past, you have no future."
"I will defend the right of even my enemy when they have that right. Has he done something with power? Yes. Has he done all things right? No, but he did his best. You can't give more than what you have. Therefore, let's sit around the table and say: These are the challenges. Do you know how long ago I told the Yoruba elders to do this? Over 10 years ago. They are now going around. Milling around him. We are going to fix this country, and nobody has the monopoly of wisdom to do it."
"I know what I am saying. Today we create a lot of backlash on social media. Call me names. I know my name. Say what you like about me, but let's fix it."
According to Bakare, many even did evils as recorded by the Bible, whom God used because they turned around. He gave their examples, including David.
"He said, 'Oh, you don't know what Asiwaju has done? Oh, he is making money from taxation. Why don't you make yours? If the system allows it, and he exploited that system to his own advantage."
Njenje Media News recalls that Chief Tinubu, a two-time former Lagos Governor, emerged from the private sector where he worked as a Director in Mobile but later switched to Politics, became a Senator in 1993, Governor in 1999 to 2007 and had amassed such influence in the Political firmament that he's often referred to as a kingmaker by his supporters.
He is rumoured to covet the nation's number-one seat.