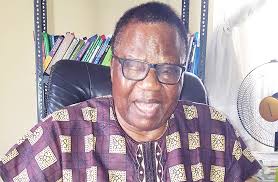 Former Minister of Information and Culture, Prince Tony Momoh is dead, Njenje Media News reports.
The immediate cause of the death is not clear as at now but preliminary reports indicates he died from an undisclosed ailment.
Njenje Media News had recently reported an interview he had with Vanguard Newspaper wherein he asserted that Nigeria can not move forward without restructuring and devaluation.
Tony Momoh, a Prince was born April 27, 1939 in Auchi, Edo State and rose to become a veteran journalist, lawyer and politician. He served as the Minister of Information and Culture between 1986 and 1990 under the Ibrahim Babangida Military Government.
He's one of the Founding members of the All Progressives Congress (APC).