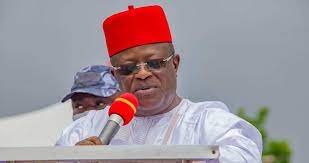 APPRECIATION TO MR PRESIDENT
The governor of Ebonyi state, Governor David Nwaeze Umahi, and the South East leaders have written a letter of appreciation and gratitude to president Mohammadu Buhari for his two day working visit to Ebonyi state, NjenjeMediaNews reports.
In a press statement made available to NjenjeMediaNews signed by the Ebonyi state Governor, David Umahi, reads;
"We wish to convey our profound gratitude to the President of the Federal Republic of Nigeria, President Muhammadu Buhari for his 2-day working visit to Ebonyi State, his generous physical presence in all the project locations and commissioning of King David University of Medical Sciences, University flyover, Uburu-Mpu dualized concrete road, Presidential lounge of the State International Airport, Dualized airport concrete road, President Buhari 4-way Light Tunnel, the Shopping Mall, Margaret Umahi International Market and ring road, International Market twin flyover, new Government House, office of the Wife of the Governor, new State Exco Chambers among others".
"Your Excellency, we are pleased to convey to you the warm expressions and appreciation of the people of Ebonyi State and South-East over your positive dispositions to the development of South East and the anticipated considerations of the requests and concerns of the people of South East".
"While we assure Your Excellency of our unwavering support and solidarity, please accept always, the assurances of the esteemed regards and best wishes of the Government and people of Ebonyi State".
Signed
Engr. Chief David Nweze Umahi FNSE, FNATE
Governor of Ebonyi State and Chairman South-East Governors' Forum