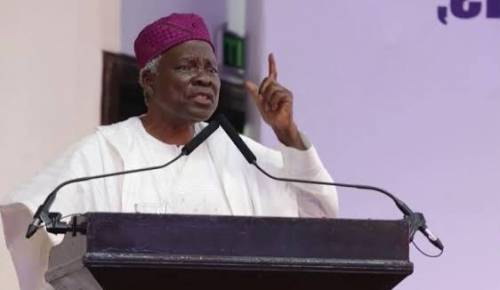 CONSTITUTIONAL FORCE MAJEURE : ACTIVATING PEOPLE'S POWER
(Being the Text of the Statement Presented at a World Press Conference by the Nigerian Indigenous Nationalities Alliance for Self-Determination, NINAS, on the 17th Day of April, 2021 at the Expiration of the 30-Day Period of Consultations with Elected Officials from the Alliance Territories following the Expiration of the 90-Day Period of Notice of Grave Constitutional Grievances issued the Federal Government of Nigeria by NINAS, December 16, 2020.).
PROTOCOLS.
Ladies Gentlemen of the Press:
As Nigeria continues to wobble in the throes of what seems its sure demise as one Political Union, we welcome you all warmly to this very important Milestone in the Carefully Programmed Advancement of the Objectives of the December 16, 2021 Constitutional Force Majeure Proclamation of a Sovereignty Dispute arising from Grave Constitutional Grievances of the Constituent Components of Nigeria that must now be addressed by the Operators of the Nigerian State. Today, the Train of NINAS Consultations and Engagements on the December 16, 2020 Proclamation moves on from the Government of Nigeria to the Peoples of Nigeria who are the True Owners of the Sovereignties Forcefully Aggregated and Federated as Nigeria, hence the Conference Theme : "Activating People's Power".
Let it be recalled :
(i) That by the December 16, 2020 Joint Multi-Regional Constitutional Force Majeure (CFM) Proclamation, a Union Dispute with the Federation of Nigeria, as represented by the Federal Government of Nigeria, was Declared by the Constituent Components of Nigeria, Cooperating under the aegis of Nigerian Indigenous Nationalities Alliance for Self-Determination, NINAS, on account of Grave Constitutional Grievances bordering on the Unilateral Imposition of Unitary Constitutional Arrangements on Nigeria since 1999, which must be addressed forthwith failing which the Peoples of the Alliance Territories may have to Reconsider their Allegiance to the Disputed 1999 Constitution.
(The Full Text of the Proclamation was Published as an Advertorial in the Guardian Newspaper of January 20, 2020 at Pages 38, 39, 40 & 41).
(ii) That in the said Proclamation, NINAS gave the Federal Government of Nigeria a 90-Day Period of Notice within which to Address Five Demands namely:
(a) To Formally Acknowledge The Sovereignty Dispute as Declared by NINAS.
(b) To Formally Commit to the Wholesale Decommissioning of the Repudiated 1999 Constitution.
(c) To Formally Commit to the Suspension of Further National Elections under the Disputed 1999 Constitution.
(d) To Formally Commit to Initiating a Timebound Transitioning during which a Two-Stage Process for the Distillation of Successor-Constitutional Arrangements Founded upon the Self-Determination Rights of the Constituent Components of Nigeria and ratified by Regional Referendums, will be undertaken.
(e) To Formally Invite the Constituent Nationality Components of Nigeria to Work out the Framework, Mandate, Composition, Timeframe and other Modalities for the said Transitioning.
(iii) That at the Expiration of the said 90-Day Period of Notice, no formal contact or statement was made by the Federal Government of Nigeria in response to the December 16, 2020 Proclamation, despite frenzied attempts by Agents of the Federal Government of Nigeria to rush to the National Assembly for Amendments to the Fraudulent 1999 Constitution on Provisions touching directly upon many of the Grave Constitutional Grievances raised in the Union Dispute Proclamation of December 16, 2020.
1
Suddenly and Curiously, the Caliphate North which had for decades been adamantly opposed to the Countrywide Consensus on the Restructuring Imperative for Unitary Nigeria, declared that they were now ready for Restructuring but that they would not allow Power Rotation, an indication that the Caliphate North is still stuck with their Born-To-Rule Mindset and is merely trying to buy time for itself by pretending it now accepts the Restructuring Therapy for the Terribly Sick Nigeria.
(iv) That in view of the fact that the Demands of the December 16, 2020 NINAS CFM were directed Exclusively to the Federal Government of Nigeria, and Considering the fact that if matters should come to the threshold of Reconsideration of Allegiance to the Disputed 1999 Constitution as aforementioned, the first line of impact will be on the Elected Officials from the Alliance Territories being the South and Middle Belt of Nigeria, it was determined by NINAS that Consultations be extended to the Elected Officials from the Alliance Territories, particularly Governors and Legislators, Federal and State.
(v) That for the purpose of these Consultations, a 30-Day Period commencing from the Midnight of 17th of March 2021 was announced by NINAS at a World Press Conference on the 17th of March, 2020, being the first day after the aforementioned 90-Day Period of Notice to the Federal Government of Nigeria.
(vi) That in the Text of the NINAS World Press Conference Statement of March 17, 2021, titled : "CONSTITUTIONAL FORCE MAJEURE, UNION DISPUTE AND THE EXPIRATION OF THE 90-DAY NOTICE OF GRAVE CONSTITUTIONAL GRIEVANCES: NEXT-STEPS FOR TRAPPED ETHNIC NATIONS OF NIGERIA", the Elected Officials from the Alliance Territories were informed that in the face of the ongoing demise of the 1999 Constitution from the Consequences of the December 16, 2020 CFM, it had become necessary to take Steps towards taking fuller charge of our Various Spaces. Accordingly, NINAS requested the Elected Officials to Hold Consultations with their Own People within their various Regions.
In particular, the Governors of the States in the Alliance Territories were advised to liaise with one another, Send Bills to their Various State Houses of Assembly and work with the Assemblies to Pass Laws by which they assume responsibility, power and control over most of the Subject Matters contained in the 68- Item Federal Exclusive Legislative List of the 1999 Constitution by virtue of the Federal Government having previously Confiscated all Powers over those Subject Matters especially Powers relating to Security, Economic Assets, Infrastructure or other Subject Matters.
We report to you this 17th Day of April 2021, that at the Expiration of the aforementioned 30-Day Period earmarked for the said Consultations being the Midnight of April 16, 2021), the NINAS Secretariat did not receive any indication that the aforementioned Regional Consultations had been undertaken by Elected Officials from the Alliance Territories.
We further report that in what seemed like a choreographed response from agents of the Federal and State Governments of Nigeria to the NINAS Grand Propositions, attempts were made to distort, obfuscate and even criminalize the Straightforward Self-Determination Campaign of the Aggrieved Constituent Component Blocs of the Distressed Federation of Nigeria, in a desperate bid to erect a False Narrative around that Campaign.
Terms like "SECESSION" were smuggled into the Debate and a Section of the Media, obviously in cahoots with agents of Caliphate Nigeria, promoted this False Narrative, with a former Presidential Spokesman, Reuben Abati, describing the Self-Determination Campaign as "TREASON" in a poorly scripted maneuver to lay the grounds for Criminalizing the Self-Determination Campaign.
One of the Governors even went as far as questioning the Standing of the Statesmen driving the Historic NINAS Intervention on the Grounds that they (ie the NINAS Statesmen) were not Elected by the People and so could not be speaking for the People ahead of the Governors who were Elected by the People.
2
These shallow shenanigans aimed at introducing confusion into a Subject that has been Very Clearly Articulated both within Nigeria and in the critical decision-making locations across the World, Failed Woefully as more and more People and Groups across Nigeria step forward to embrace the DIAGNOSIS, PRESCRIPTION and TREATMENT Options offered all by NINAS for both the Terminally Sick Nigerian State and Nigeria's Constituent Component Nations currently Trapped in the Failed Lugardian Experiment of 1914.
WHERE THINGS ARE RIGHT NOW WITH THE DISTRESSED FEDERATION OF NIGERIA.
LET IT BE KNOWN TO ALL :
(A) THAT the December 16, 2020 Joint Multi-Regional Constitutional Force Majeure which effectively Defeated the Fraudulent 1999 Constitution and therefore Unhinged the Legal Basis of Unitary Nigeria, (as adduced by its Chief Facilitator, Prof. Yadudu ) is a Joint Jail-Break Action Launched by the Trapped Constituent Components of the Defunct Federation of Nigeria, from the Fulani-Operated Caliphate Prison and Union of Death that Unitary Nigeria has been for the Peoples of the Alliance Territories since the 1966 Demise of the Federation of Nigeria.
(B) THAT having overpowered and Delegitimized the Monstrous 1999 Constitution, and having fully activated their Inalienable Right to Self-Determination, the Rest of Nigeria (South & Middle-Belt) aggregated as the Nigerian Indigenous Nationalities Alliance for Self-Determination (NINAS) have now abandoned the Carcass of the Defunct Federation of Nigeria to the Fulani Caliphate, and moved on with their Sovereignties, (hitherto forcefully hijacked and confiscated by the illicit Federal Government of Nigeria that emerged from the Catastrophic Bloody Fiascos of 1966-1970), towards Fresh Constitutional Protocols as Willing, Compatible Contiguities in unfettered Self-Determination.
(C) THAT with the Demise of the 1999 Constitution, and the Unending Killings and Invasion of Heavily Armed Fulani Militia masquerading variously as "Herdsmen" and "Bandits", in circumstances that progressively expose the Open Collusion of the Fulani-Controlled Federal Government of Nigeria with the murderous Invaders, it has become imperative for the Peoples of Nigeria who are now faced with the dire Existential Threats represented by this Invasion, to brace up and assume full responsibility for their own safety, their own Defense from Armed Invaders, their own Economic Assets and their Own Future, not as individuals or small Community Groupings but as De Facto Government/Governments in all ramifications adequate to meet the challenges of the aforementioned Existential Threats.
NINAS offers the Framework for Activating this De Facto Governance Imperative which begins with providing clear Directions to our Traumatized Peoples and Relating to the International Community on their behalf.
(D) THAT in the face of the Self-Preservation Steps being taken by the Peoples of Nigeria to Take Down, Dismantle and Decommission the Caliphate-Imposed 1999 Constitution, the Voyage to 2023 General Elections being plotted under the Repudiated 1999 Constitution by Agents of the Caliphate, assumes a place of Strategic and EXTRAORDINARY importance, considering the direct nexus between that Election and the Preservation of the Defeated 1999 Constitution.
NINAS knows and hereby alerts the Peoples of the Alliance Territories, that the mad rush of the Caliphate and its Agents across Nigeria, to drag Nigeria to another round of National Elections under the 1999 Constitution, is informed by the Caliphate's desperation to somehow resuscitate that Constitution in the sense that if instead of Taking Down the 1999 Constitution forthwith (which is well within our reach right now with the Constitutional Force Majeure) we (the Alliance) go for Elections under that Constitution, we will invariably give a fresh lease of life to that Constitution whereas if we press on as we are already doing 3
right now, by rejecting further any National Elections (2023 in Particular) under the 1999 Constitution, that Constitution will be Dismantled, Decommissioned and Jettisoned inside the First half of 2021, paving the way IMMEDIATELY for Transitioning, Referendums and the Emergence of Successor-Constitutional Arrangements.
It is in this regard that NINAS is now informing the Political Merchants of the South and Middle-Belt across all the Political Parties in Nigeria, that any Decision by them or their Political Parties to go another round of National Elections in 2023 will be interpreted as a Clear-Minded Choice to help the enemy preserve the 1999 Constitution and this will mean Sabotaging the Self-Redemption Initiative of their own People the Alliance. NINAS strongly advices the Political Parties and Political Merchants in the Alliance Territories not to put themselves on a Head-On Collision with the Peoples of the Territories in their Quest for Self- Preservation via Self-Determination.
GOING FORWARD, SINCE THE TWO TIERS OF GOVERNMENT IN NIGERIA HAVE ABANDONED THE POPULACE TO THEIR FATE, NINAS ACTION TRAIN NOW MOVES TO THE PEOPLE :
Having allotted a total of 120 Days to the Two Tiers of Government in Nigeria (90 Days and 30 Days to Federal & State Governments respectively) for Consultations and Engagements with the Issues raised by the NINAS Constitutional Force Majeure Proclamation of December 16, 2020 and for the same reasons stated in Paragraph (v) above regarding the foreseeable immediate impacts of Reconsideration of Allegiance to the Distressed 1999 Constitution on persons to whom the Demands of the December 16, 2020 were not addressed, the NINAS Train of Consultations and Engagements will today April 17, 2021 move on to the Peoples of Nigeria, especially in the Alliance Territories, who collectively Own the Sovereignties Forcefully Consolidated and Hijacked by the Nigerian State via the Instrumentality of the Imposed and Fraudulent Constitutional Arrangements of 1999.
ACCORDINGLY :
(1) NINAS HEREBY DECLARES a 120-Day Period of Consultations commencing today, April 17, 2021, with the Peoples of the Alliance Territories with dedicated Sessions for various segments of the Nigerian Society, the Diplomatic Community and the International Community
In this Period, All segments of the Nigerian Society in the Alliance Territories shall be consulted and engaged with the NINAS Propositions as Outlined in the December 16, 2020 Constitutional Force Majeure Proclamation and these will include Grassroots Organizations, Young People, Youth Organizations, Political Parties, the Media, Church Networks, Regional Socio-Cultural and Socio-Political Organizations, Organized Private Sector, Farmers Union, Traders Associations, Trade Unions, ASUU, NUPENG, Artisan Unions, Non-Governmental Organizations, Organized Labour, Market Men and Women Associations, Students and Students Unions, the Nigerian Bar Association, the Nigerian Medical Association and such other Professional Groups, the Nigerian Diaspora especially those from the Alliance Territories, the Manufacturers Associations, Transport Unions including Motorcycles and Tricycle Riders and all other identifiable segments of society that may not have been listed here. Also Identifiable Statesmen and Notable Community Leaders including Traditional Rulers.
(A Schedule of Engagements with these segments of Society listed hereinbefore shall be released to the Public in the form of Weekly Bulletins, by the NINAS Secretariat).
These Consultations shall mostly take the form of Town Halls, Mass Dissemination of Fliers and Leaflets, Pamphlets, Audiovisuals, Street Evangelism and Visitations. The Town Hall Meetings shall be Virtual in some instances considering the limitations currently imposed on the Global Community by the Covid-19 Pandemic. The Nigerian Diaspora Community especially those from the Alliance Territories are hereby Mandated to Organize Town Halls in their Countries of Residence to discuss and disseminate CFM- Related Information just as it is being done in Nigeria.
4
As a part of the Engagements in this 120-Day Period, NINAS requests all Organizations and Individuals who agree with the Objectives of December 16, 2020 Constitutional Force Majeure Proclamation, to declare their support loudly in public so that the Task of Enlightening, Rallying and Mobilizing the Populace to Self-Redemption may be expedited. It is in this context that NINAS wishes to acknowledge and hail the bold example of Pastor Paul Adefarasin of the House on the Rock Church, in identifying the Foundation of Nigeria's Complex Problems to be Nigeria's Constitution, describing Nigeria as a SCAM and a FRAUD, also rejecting further access to Power (ie National Elections) under the Toxic 1999 Constitution. NINAS challenges other Men and Women of God in Nigeria to Speak up as loudly and clearly as Pastor Paul Adefarasin has done on this raging Question of the Union Dispute. Silence will be interpreted as support for the Forces of Darkness and Retrogression that imposes and maintains the Atrocious Unitary Constitution on a Federal Union.
Even in the Midst of escalating insecurity, existential threats, excruciating poverty and hopelessness, the purpose of these Consultations is to fully acquaint the Populace with the true nature of the Problems confronting Nigerians and Nigeria, with a view to Rallying and Mobilizing that populace towards the Peaceful Mechanisms for Resolving the Long-Standing National Questions of Nigeria including Referendums and Plebiscite, as against the rapidly increasing drift towards self-help.
(2) Let it known that Upon the Completion of this Final Round of Consultations, Mid-August 2021, should the Demands of the CFM remain Unaddressed, NINAS shall proceed most expeditiously with the Activation of Reconsideration of Allegiance to the Repudiated 1999 Constitution and Commence Processes of the Orderly Interment of that Constitution within the Context of the Self-Determination Imperative for the Constituent Nationalities Components of Nigeria.
(3) Let it be noted that in response to Interventions by People of Goodwill from within and outside Nigeria including Foreigners who are Sympathetic to Nigerians for their Horrifying plight, NINAS will in the interest of our Peoples, be willing to reopen the window of Dialogue and Engagement with the Two Tiers of Government in Nigeria if they turn up in course of the 120-Day Period of Consultations with the Peoples of Nigeria and the International Community.
(4) LET IT BE CLEARLY UNDERSTOOD that from this 17th Day of April 2021, the Five-Point Demand contained in the December 16, 2020 Joint Multi-Regional Constitutional Force Majeure Proclamation of NINAS, shall operate as the Five-Point Agenda of the Nigerian Indigenous Nationalities Alliance for Self- Determination which means that with or without the Participation of the Two Tiers of Government in Nigeria (Federal & State), the Objectives of each of those Five Points of Demand shall be vigorously pursued on a Transcendental basis by the Peoples of Nigeria under the Guidance of NINAS until fully realized.
(5) In closing, let it be known to all that by the event of today, NINAS has Activated what the World calls Peoples Power in the Difficult Debates and Dialogues emanating from the Constitutional Force Majeure Proclamation of December 16, 2020 which is essentially a Machinery of the Peoples of Nigeria to Peacefully Ease Out the Unworkable, Imposed Unitary Constitution of Nigeria (1999), and to Distill Successor-Constitutional Arrangements anchored upon the Unfettered Self-Determination Rights of the Constituent Components of Nigeria.
As we speak, the Yoruba are already gathered at the Historic Mapo Hall in the Great City of Ibadan, the National Capital of the Yoruba in the Disputed Nigerian Union, holding the kind of Rally that will progressively characterize the NINAS Consultations with the Peoples of Nigeria.
Finally, as a general response to the deluge of enquiries from the Public regarding what the Mission and Make-Up of NINAS is, permit us to clarify as follows:
NINAS is short for : "Nigerian Indigenous Nationalities Alliance for Self-Determination.
5
NINAS is a Self-Determination Movement birthed as Alliance of the Self-Determination Initiatives across the Three Alliance Territory Blocs of the Lower Niger, the Middle-Belt and Yorubaland.
The Main Task of NINAS is to Lead the Dismantling of the Fraudulent 1999 Constitution to end the Unworkable Unitary Union it Foists and to Champion the Processes of Self-Determination by which Sovereignty is restored to the Constituent Regions of the Alliance.
This Dismantling which automatically frees up the hijacked Sovereignties of the Trapped Constituent Components of Nigeria is being driven in a manner that will Precipitate an Orderly Transitioning Arrangement that will midwife the emergence of Successor-Constitutional Protocols, anchored strictly upon the Self-Determination Rights of the Constituent Components of the Defunct Federation of Nigeria, aggregated in Formations of their Choice, to be Ratified by Regional Referendums and Plebiscites.
While NINAS shepherds the Task of Dismantling the 1999 Constitution, the Constituent Regional Organizations/Initiatives will under the guidance of NINAS, midwife the emergence of Cohesive Regional Charters/Constitutions that will form the basis of UN-SC Mandated Self-Determination Referendums to terminating the Failed Lugardian Experiment of 1914.
Thank you for your Audience.
Professor Banji Akintoye Chairman, NINAS
April 17, 2021.