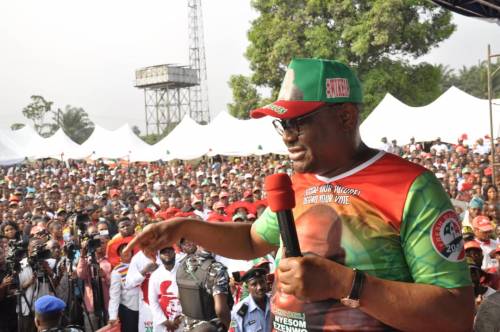 There was a mild drama on Thursday in Adamawa, when Rivers State governor, Nyesom Wike visited to canvass delegates' support for his presidential aspiration, NjenjeMediaNews reports.
According to SaharaReporters, Wike was at the Government House, Yola, the state capital to seek the support of Peoples Democratic Party (PDP) delegates ahead of the party's presidential nomination.
But PDP delegates openly rejected the Rivers State governor, telling him that their ballots were reserved for the former Vice President, Atiku Abubakar.
Atiku was the party's last presidential candidate when he challenged President Muhammadu Buhari at the poll in 2019.
Wike had said he was in Atiku Abubakar's home state because he was better qualified to fly the PDP ticket.
He, therefore, urged the delegates to pick the party's presidential candidate without tribal, religious and regional considerations.
However, the PDP chairman in the state, Tahir Shehu, dramatically responded that Adamawa delegates were not for him.
He said, "Adamawa state delegates are for Atiku Abubakar. You told me you came to ask us to vote Atiku."