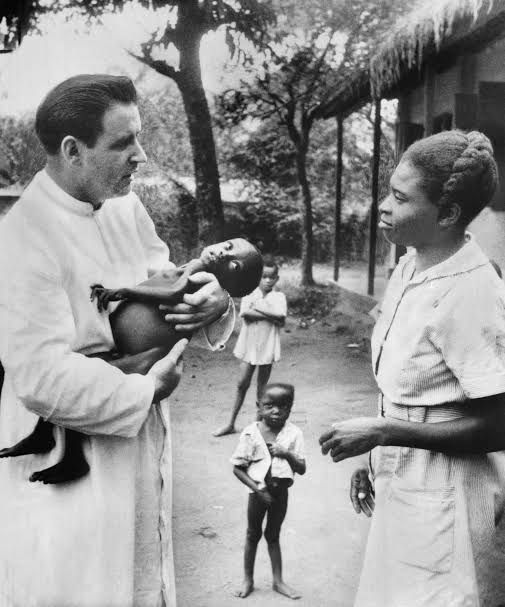 The Anya-Ndi-Igbo has mourned late Father Micheal Dermot Doran, the Priest famed for rallying aid for the Biafran Airlift in 1968.
Father Doran died on May 19 in Dublin from myelodysplastic syndromes, a rare form of blood cancer. He was aged 88.
The late Priest was a linchpin of the Biafran airlift, which brought 60,000 tons of aid to southeastern Nigeria during the Nigerian Civil War.
He accompanied many of the flights from there into Biafra, coordinated supply distribution, caught up with locals and other priests, among other humanitarian efforts.
Anya-Ndi-Igbo in a statement signed by its President, Chris Okoye Chairman, Board of Trustees, Uma Eleazu condoled with the family of the late Priest while extolling his virtues.
Read the statement below:
OUR CONDOLENCES ON THE DEATH OF VERY REVEREND FATHER MICHAEL DERMOT DORAN (CSSp)
Ndi Igbo express our recognition of the brotherhood of all humans, of all races, creeds, and classes, in a number of aphorisms. Three prominent ones are:
1. Nwa bu nwa Ora – All humans are kith and kin
2. Nwanne di na Mba – Brethren are everywhere you go
3. Metu mara Ibe – Neighbour is known in Adversity
On behalf of Ndi Igbo, everywhere, we condole you on the recent death of our brother-in-need, Very Reverend Father Michael Dermot Doran.
Father Doran was posted on Mission to the Igbo country in Nigeria in 1961, following his Priestly Ordination on July 16 of that year, and accepted us as his people, even though he was born Irish, confirming that Nwa bu nwa ora. Living out the Motto of the Holy Ghost Fathers Congregation, also known as the Spiritans, One heart and one spirit, Fr. Michael fulfilled, among our people, in his pastoral work, the Prophesy of Isaiah, son of Amoz (Isaiah Chapter 61 verse 1, NIV). Anointed a Priest, Father Dermot proclaimed good news to the poor; bound up the brokenhearted; proclaimed freedom for captives; and release from darkness for the prisoners in Igboland from 1961 to 1970.
In his missionary work, among our people, Ndi Igbo, Reverend Father Doran confirmed that Nwanne di na Mba. By mobilising resources from Christians in Ireland, the UK, Continental Europe and North America, the Holy Ghost Fathers, the Immaculate Heart of Mary Sisters, the Church Missionary Society, the Methodists, the Baptists and others, helped Ndi Igbo to embrace the world into which colonial adventurers threw them, unprepared. Dennis Memorial Grammar School, Onitsha; Holy Ghost College, Owerri; Methodist College, Uzuakoli; and Baptist College, Obinze; Mission hospitals at Adazi, Iyi-Enu, Uzuakoli, Oji-River and Emekuku are a few of the enduring gifts of love that the Missionaries used to bring Light, Liberty and Healing to our people.
Father Doran lived the prayer of our High Priest, Jesus Christ, Who prayed (John 17:20-21, NIV) 'also for those who will believe in me through their message, that all of them may be one'. From 1968, he became Ecumenical, under the Joint Church Aid of Roman Catholic, Protestant and Jewish groups, to collect supplies of food and medicine and transport them by air into blockaded Biafra (the Dot in a Circle). In Fr. Doran's own words, in 1969, the partner Churches "mightn't be agreed on theology — but are agreed on bread." "fantastic example of ecumenism,".
So, to the World Council of Churches, CARITAS International, the Spiritans, the International Committee of the Red Cross, the pilots of Jesus Christ Airlines, the Doran family and to the memory of Very Reverend Father Michael Dermot Doran, Anya-Ndi-Igbo say, dalu, kaa, unu emela, maka na Metu mara Ibe.
In Psalm 124, the King, Priest and Prophet, David, stated
1 If the Lord had not been on our side— let Israel say—
2 if the Lord had not been on our side when people attacked us,
3 they would have swallowed us alive when their anger flared against us;
4 the flood would have engulfed us,
the torrent would have swept over us,
5 the raging waters
would have swept us away.
6 Praise be to the Lord,
who has not let us be torn by their teeth. 7 We have escaped like a bird
from the fowler's snare; the snare has been broken,
and we have escaped.
8 Our help is in the name of the Lord,
the Maker of heaven and earth.
To all people, everywhere, who God used to bring relief to Ndi Igbo, when Igbo women and children were served the bread of adversity and the water of affliction (Isaiah Chapter 30 Verse 20, NIV), we intone in prayer for you, that your teachers (the Trinitarian God) will be hidden no more; with your own eyes you will see them and receive abundant grace.
May the lovely soul of Father Michael Dermot Doran rest in perfect peace. Amen