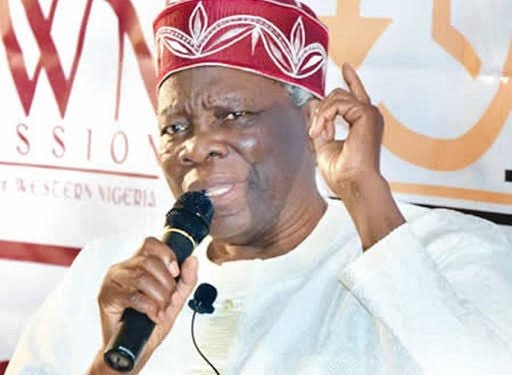 The Former President of the Yoruba World Congress, Professor Adebanji Akintoye has said Yoruba's are tired of Nigeria and wants out of the contraption, Njenje Media News reports.
He made the assertion at a Virtual conference with the theme; "Nigerian Union Dispute Debates And Dialogue Series: The Impact And Significance Of Constitutional Force Majeure", organized by Njenje Media and anchored by Maazi Ezeoke.
According to the Academician, the Yoruba's are democratic people who do things systematically and in order as evident in the age long monarchial process and dispute resolution but added that enough is enough as the Yoruba's has decided to opt out of Nigeria.
In his words;
"We are a very strongly democratic people and that's why the Yoruba person is so sure of his self worth, very much sure of his self worth, and so we are a democratic people but we have been put in this country where democracy is not strong, is not a strong factor at all. And in which the democratic principles have been gradually whittled down. Until we have now come to a situation, in which a section of the country have the right to go out and kill the rest of the country. "
"So, we have never had to leave but we want to leave Nigeria , we have never done so but now it has reached a point that for anybody to come and tell the Yoruba people today , 'my brothers, let us stay in Nigeria', he would find that he's alone and he might be in danger from being alone. "
"The Yoruba people have at last decided that, well, we have seen enough , you hear Yoruba people saying everywhere 'O To Ge' , we have made all the contributions we can make , we have contributed enormously to the making of Nigeria and we have been the promoters of education, promoters of organization, the promoter of anything that can advance the quality of live of Nigerians but we have done enough now , it is time for us to go and do it for ourselves in our own separate country, outside of Nigeria."
When asked on his earlier statement in 2020 of Yoruba's not wanting to break up from Nigeria, he said;
"It doesn't mean breaking up from Nigeria, the Nigeria defined by the 1999 constitution, we would rather break up from the Nigeria of the 1999 constitution than remain in it."
" I have said that, what I have said is this, the Yoruba's have never spoken out to say that they want to break out of Nigeria, now we are saying it at last, we have seen enough, that is what I'm saying now. "
The Professor further stated that the right to self determination must be given to the Yoruba people.
"If I may put it differently, we are talking about the right to self determination, the current constitution of Nigeria was done in negation and defiance of our rights to self determination, of the rights of the constituents components to self determination and that right is inalienable."
"Now there is an instrument from the UN, I want us to pay close attention, the United Nations declaration of the rights of the indigenous people, I can inform us here now that immediately after the pronaco processes that ended immediately in the August of 2006, and we have a draft that would have taken us back to being a federation, the next thing we were concerned with was how to take down, to ease out the 1999 constitution, we didn't want any commotion."
Professor Akintoye believes the Yoruba's as civilized people have always wanted things done in an orderly manner.
He added;
"All the people waving Biafra Flag, Oduduwa flag and the people shooting all over the place and breaking pipelines, we were the ones who prevailed on them to say , look, let us put an orderly process into it and we went to places of decision making between New York , UN headquarters and the US and some other countries that had stakes there , explained to them what we were rejecting and complaining about and it has become a question of life and death, so the remedy to the bondage we are in, the remedy to the enslavement we are suffering in our ancestral space is called 'self determination' ."
"We entered the Nigerian federation and willingly submitted our sovereignty, our resources, our people, our land and so on, but now it is no longer a Federation , and we are no longer able to perform in the country in the way we are able to perform when it was a federation, we are no longer a independent people performing under the constitution of Nigeria , we have become a series of enslaved people's and therefore, we were not able to perform, the duty is that we were able to perform under the constitution and therefore we are no longer able to perform under the constitution."
"We can not even make rules to drive marauders out of our land , they said they are entitled to being on our land as a result of this constitution , so we have come out to say the same way we said we submitted our sovereignty, our resources to this federation, under this constitution, we never did."
"There is a dispute between us and the Nigerian state and the dispute is clear and therefore we ask as civilized people and we want to be orderly , we said let us create room so that we can talk about this together and we have filed this with the Nigerian state, we have filed it with the United Nations and the UN is taking cognizance of this and it is no longer a question of Yoruba, Igbo etcetera , it is now the international community are interested in how this is resolved." He added.