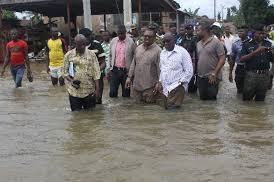 MY PERSONAL ENCOUNTERS WITH MR PETER OBI (I don't need to verify.).
By Adim Williams
'Go and verify' has become a new slogan since the eventful emergence of the enigma called Peter Obi for the Nigerian presidential race. It's not just a slogan but actually a new practice; a new culture. Before now, Nigerians used to take whatever politicians said hook, line and sinker. But not anymore. With Peter Obi's 'go and verify' challenge, most people now have their fingers on the phones and laptops to google whatever claim any politician makes to confirm, to contest or to counter it. It's a good development. It explains why the other presidential candidates now dread granting interviews, especially live interviews; so that their lies won't be busted. However, some of us do not need to verify anything as far as Mr Peter Obi is concerned because, we had firsthand experience of his claims. Experience, they say, is the best teacher.
Sometime in 2010, I took a break from movies in order to refresh and re-strategize. By providence, I found myself in Anambra State (though not indigenous to Anambra, but Imo State) during Peter Obi's second term in office, where I took up an appointment with a corporate organization, Krisoral Group of Companies, as Human Resource Manager and Corporate Affairs Manager at different times. Krisoral Group is one of the largest indigenous manufacturing companies in Nigeria. A company that has hosted President Goodluck Jonathan, Vice President, Yemi Osinbajo, governors and a host of top government officials at different times. It was while there that I had my encounters with the then Anambra State governor, Mr Peter Obi.
One fateful day in 2011, I got signal from the Group Managing Director, GMD that the state governor was on his way to pay a visit to the company and I was mandated to take care of protocol to receive him. I rushed down to the Chief Security Officer, CSO's office to liaise with him about the protocol. But, while I was still talking with the CSO, we heard a single hoot of siren outside the gate. The automatic gate swung open and a Hiace (Hummer) Bus drove in and parked. Then one police escort van followed. The lone passenger of the Hummer Bus came down and walked towards me and the CSO with a smile on his handsome face. That passenger was Governor Peter Obi! He exchanged pleasantries with us and entered the office complex to meet with my boss (who was actually on his way down to receive the governor). No fanfare, no guard of honour, no PAs, no SAs and no hangers-on. Only that one police escort van with some policemen accompanied him. Staff and workers of the company were doing their jobs oblivious of the presence of the state governor in their territory. Within one hour, he was done with the GMD, and left. How could a governor in Nigeria be this simple, prudent, efficient and yet very effective! I was in awe of this experience for a long time until now I think it's worth sharing.
Another encounter of note was during the 2012 flooding occasioned by the overflowing of the River Niger, which affected everything and everybody along the bank of the River Niger and beyond. The Harbour Industrial Layout at Atani Road was badly affected. Goods and machinery worth billions of naira were destroyed. Governor Peter Obi visited to see things for himself and to commiserate with the affected people and companies. Other dignitaries who had visited were all taken round in a boat, but when Peter Obi came, he opted to walk through the flood on foot with his clothes, shoes and all. His explanation was that people were carrying their goods and property and walking through the water. So why wouldn't he? This was a second-term governor who was not seeking for re-election. He was just acting from his heart. This happened right in my presence! And he didn't even feel he was doing anything extra-ordinary. That is Peter obi for you.
The above personal experiences with this great man may not be enough to convince anyone about him, but luckily, I'm not the only one that had such amazing close quarters encounters. Since his emergence, people from all over the country have been narrating similar experiences of down-to-earth, compassionate and altruistic approach to leadership. These are some of the qualities and characteristics needed by anyone who wishes to pull Nigeria out of the deep hole we find ourselves in today, qualities that can create national cohesion, peace and progress so as to galvanize our collective strength towards one goal. We have had enough of political brinkmanship through propaganda, mischief, outright falsehood, deception and pure wickedness by greedy hegemonic politicians. This is the time for a new beginning; a new culture of conscientious, transparent, altruistic, compassionate, yet decisive and effective leadership. The Labour Party presidential candidate, HE Mr Peter Obi is the perfect candidate for this new dream Nigeria. To God be the glory!