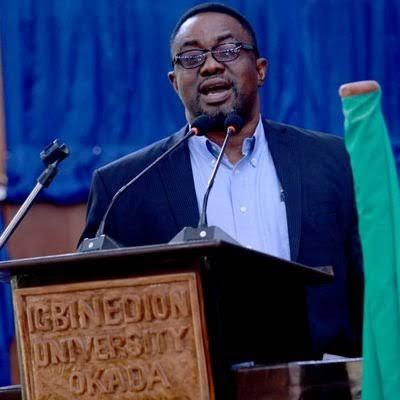 Public Speaker and the Director, Center for Contemporary Security Affairs, Ogbinedion University, Professor Femi Olufunmilade has bared his mind on the religious tolerance in Yoruba land and how the inhabitants cohabit peacefully with different faiths, Njenje Media News reports.
The former SDP Presidential aspirant explained the genesis of the import of the two major religions (Christianity and IslandIslam) in Yoruba land and how almost every household in the West has adherent of the three major religions.
According to him, Islam entered Yorubaland in the 14th century through itinerant traders from Mali. He said though the exact part of Mali they came from wasn't recorded but he strongly suspects Timbuktu for reasons reserved for another day.
In his words;
"The Yoruba then called Islam 'the religion of Mali' translating to Esin Imale, which is still in use today. Imale is a corruption of the word Mali.
"Note that Islam didn't enter Yorubaland through war and bloodshed, otherwise called jihad. It was a peaceful engagement facilitated by trading intercourse".
"Up till the 18th century, Islam was the only foreign religion in Yorubaland."
Njenje Media News quotes him analyzing how Christianity came into the fore adding that the religion was imported to the tribe in the 19th century and how it penetrated Yorubaland peacefully.
He said;
"It's spread (Christianity) was highly helped by the missionary work of a freed Yoruba slave, Samuel Ajayi Crowther, who was the first ordained African Bishop and grandfather of Herbert Heelas Macaulay- father of Nigerian nationalism".
"Bishop Crowther's genius in aiding the spread of Christianity was in the translation of the Bible from English to Yoruba. He also set the stage for the Igbo translation by producing a linguistic groundwork for written Igbo in 1857 titled, "Isoama Ibo". I had been privileged to read his original handwriting at the Federal Archives at the University of Ibadan. He was such an accomplished linguist that the prestigious Oxford University awarded him a honourary doctorate: first blackman to be so honoured. Close to 200 years ago"
"With the language barrier broken, Christianity flourished in Yorubaland aided by the modernisation work of the missionaries. They built schools, hospitals, first newspaper press, first storey building, among other attractive modern amenities".
The Igbinedion University Lecturer further posited that both Islam and Christianity has adherents in most Yoruba families, alongside worshippers of diverse gods and deities.
"The Yoruba believe religion is a private affair between a human being and God or whatever he believes in. It is, therefore, a taboo to fight over religion anywhere in Yorubaland."
"The whole orientation of these large-hearted breed of Africans called the Yoruba is captured in a saying: "Esin baba ko gbomola". Meaning: a father's faith doesn't guarantee salvation for his child", he said.