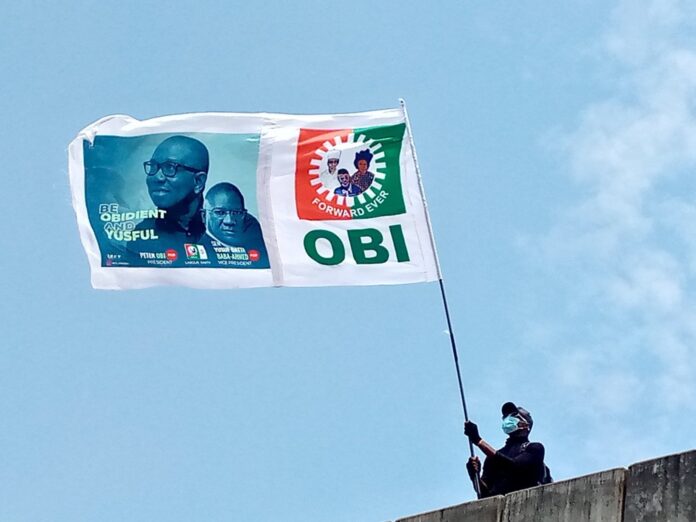 The All Progressives Congress, APC, Chairman in Oshodi Lagos and his boys have attacked a popular Mr. Peter Obi 's Flag-bearer known as Flagboi and his photographer at Oshodi Lagos.
According to the PeterObiFlagboi as he is popularly called, "I was ambushed at Oshodi terminal by the APC Chairman and his thugs who brutalized me and my photographer friend for carrying the the Labour Party NG flag for his His Excellency Peter Obi, NjenjeMediaNews reports.
He was almost lynched, but was saved by a good Samaritan soldier who was passing through the area and saw the despicable, detestable appalling and agonizing torture these young men were being subjected to as his Flagboi's photographer has already been doused with petrol wanting to set him ablaze.
Intimidations, attacks, maiming, killings, and other violent acts is the trademark of Asiwaju Bola Ahmed Tinubu campaign strategies to win elections but this one will not be allowed to go this way and the authorities needs to arrest and prosecute these Political criminäls.
This is not the first time Tinubu's APC thugs led by MC Oluomo will attack any opposition that passes around Oshodi and its environs during campaign period. In 2018 I, Sowore and other African Action Congress, AAC, members were also ambushed during our campaign rallies in Lagos that took us to pass through Oshodi. Windscreens of our vehicles were smashed, our memberswere stabbed, many beaten blue black and all landed in hospital and had to receive different stitches for the high degree of injuries.
I remember vividly how the APC thugs stabbed our women leader then on her shoulder and she was bleeding. She had to spend time at the hospital.