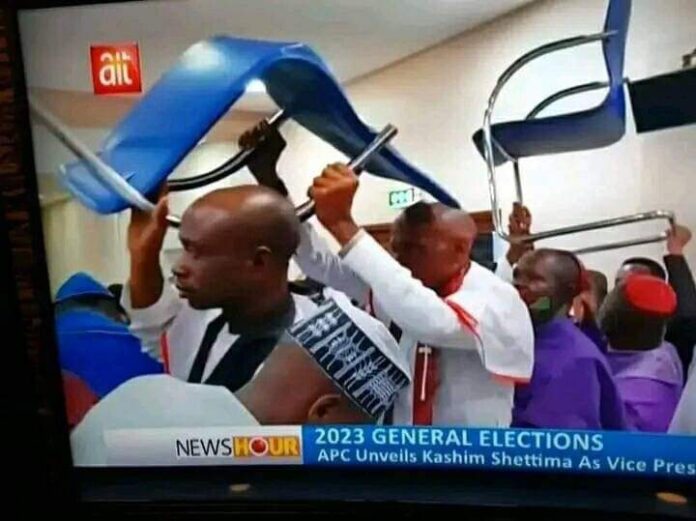 By Pat Uchendu
So, shame has finally got a character in the Nigerian polity; a character that is now every step APC and his desperate candidate Bola Ahmed Tinubu makes.
When I first saw the pictures of a caricature that Tinubu assembled as clergymen to add insult into the existing injury, I knew that Nigeria has finally gone full circle as a political curiosity in the eyes of the civilized world.
What a desperation for someone who picked a muslim as his running mate (now jittery about his choice) and pretends that it doesn't matter in a country dangerously on amber charger on many fronts.
Did Tinubu consider the insult he just wrought on the christian community in Nigeria by dressing urchins in Priestly Toga just to deceive his types. Where is your confidence Bola Ahmed Tinubu? And so, if he finds himself on the flip side of faith would he try this mindless insult on muslims? So, Tinubu and his handlers are this unintelligent and insensitive? Of course they would if we consider the many issues surrounding his person, ranging from allegations of false age, state of origin, education, name, and what have you. And on the party he runs? What didn't they tell and promise Nigerians in 2015; a paradise on earth, 80% of which are fake and they shamelessly want to remain in power.
Nigerians should see through the toga worn by those hired urchins and understand the character they are up against. A political "lagbaja"!
Shame on Tinubu, shame on APC and indelible shame on those fellows who wore un-ironed, unfitted and inappropriate hoods to that event. Indeed you had no event, but an outing in shame!
LetUsTakeBackOurCountry
Uchendu writes for PO Express Media, POEM.